Basehor-Linwood track squad celebrates state championships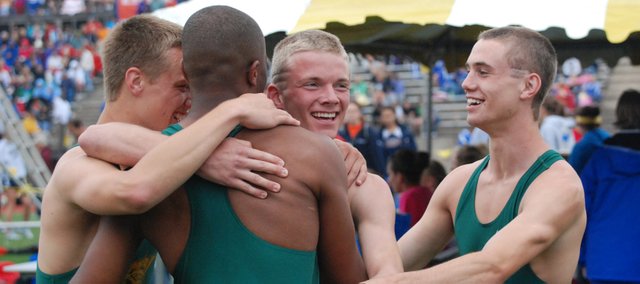 Wichita — It wasn't that long ago that Basehor-Linwood's trips to the Class 4A track and field state championships were brief.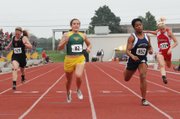 "My first year here we took one jumper," BLHS coach Steve Hopkins said. "Thirty minutes after the competition started we were back in the van and on our way back home."
My how times have changed.
After five straight years of taking one athlete to state, BLHS upped its number of qualifiers last year and again this season. The Bobcats were represented in nine events at state Friday and Saturday at Cessna Stadium, but the biggest number they celebrated was two state championships.
The BLHS boys 400-meter relay team of sophomores Trey Kinchloe and Lane Young and seniors Miles Brown and Daniel Prioleau ran a school-record 42.94 seconds in Friday's preliminaries and followed it up Saturday by winning the state championship in 43.15. Runner-up Buhler finished in 43.50.
Kinchloe exploded out of the starting blocks and attacked the first curve before handing off to Young. BLHS was in third place but within striking distance when Young handed off to Brown. A strong run on the final curve by Brown got the baton to Prioleau in second place. Rose Hill — expected to be the Bobcats' top opposition — dropped the baton at the final exchange zone, and Prioleau steadily pulled away toward the finish line.
"Our four guys just had great fluidity when it came to passing the baton," Hopkins said. "Miles ate up the curve the last four or five strides (on the third leg), and Daniel was at full speed when he got it."
Later, junior Dakkota Edmonds nabbed her first state championship in the 200 in 25.18. It was a fitting event to win considering Basehor-Linwood legend Dawn Steele owns the state meet record in the event at 24.80 — a record established in 1991.
"I really didn't know how it was going to go," Edmonds said of the 200. "But I was really ready. I was wanting so badly to at least just get one gold medal this year."
In addition to those championships, Prioleau and Edmonds both placed second in the 100, senior Jacob Powell mustered the best throw of his career in the shot put and placed fifth at 50 feet, 4 inches, and Young leaped to a fifth-place finish in the long jump at 21-3 1/4.
Even the Bobcats who didn't medal had strong showings. Sophomore Ben Johnson tied his career best in the high jump at 5-10 and placed 14th, two inches away from medaling. Meanwhile, junior Bailey Hooker — who never competed in track and field before this year — finished 15th in the shot put at 32-3. Brown finished 11th in the 100 in 11.64. Also, Prioleau was seeded second entering the 200 finals but withdrew after injuring his hamstring during the relay.
As a team, the Basehor-Linwood boys finished ninth overall and the BLHS girls placed 14th.
"Realistically, our goal was to be in the top 10," Hopkins said. "We were right there.