Bobcats' comeback bid comes up just short at 4A state tournament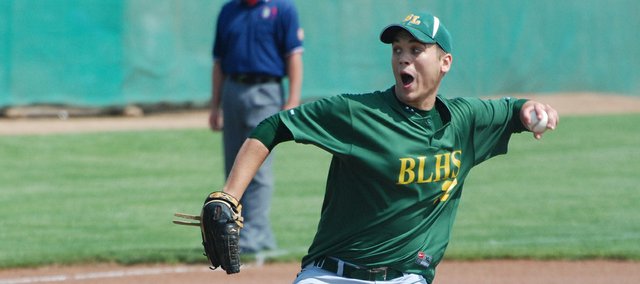 Salina — The comeback kids nearly did it again.
Photo Gallery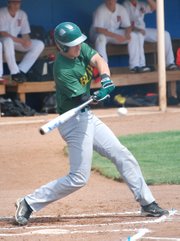 Baxter Springs 7, Basehor-Linwood 6
Baxter Springs edged Basehor-Linwood in the first round of the Class 4A baseball state tournament on Friday, May 27.
Basehor-Linwood, which rallied to win its baseball regional semifinal and championship games to advance to state, couldn't quite replicate the magic in its Class 4A state tournament first round game against Baxter Springs Friday at Dean Evans Stadium.
The Bobcats rallied twice and had the tying and go-ahead runners on base in the seventh inning before falling 7-6.
"We had several games this year — Tonganoxie was one and (Bishop) Ward was one — where we got down and then the kids had an inning where we came back," BLHS first-year coach Brian Lohafer said. "We were just reminding them of those games and saying that we could (do it again). For us to have the five errors that we had and even be in the ball game was really good. And I just told the kids at the end here that they never gave up, they kept coming back and coming back, and we're sitting there with two guys on and there's the potential that we still could tie the game and possibly go ahead.
"They were excited right up until the end. I don't think there was a tear shed yet because it hasn't really dawned on them that it's happened. They played hard right up until the end, so I was proud of them."
The loss brought a dramatic close to a season where BLHS posted a 12-12 record and won two tournaments en route to a surprise state berth.
Initially, it looked like it was just a matter of time before Basehor-Linwood would be on the board as Destry Bryan and Jared Patton both laced first-inning singles. Baxter Springs right-hander Colton Krokraskia kept the Bobcats off balance for the next few innings, however. BLHS mustered just three base runners during the next four innings as Brett Bailes and Tyler Ogden were hit by pitches and Garret Kahle singled.
Meanwhile, BSHS starter Austin Stubbs didn't allow a hit in the first two innings, but the Lions pounced in the bottom of the third.
Tyler Underhill was hit by a pitch to start the inning. Then, Krokroskia bunted and reached on an error. Both runners advanced on a sacrifice bunt and then scored when Austin Karnes smashed a triple to center field. Karnes scored on Hunter Miller's single to center for a 3-0 Lion lead.
Baxter Springs capitalized on a BSHS error and a single by Lucas Westervelt to build a 5-0 lead after four innings.
Despite the deficit, the Bobcats never panicked. They'd been in this position before.
"We haven't had the one or two runs each inning (type of games)," Lohafer said. "What we've had is the zero, zero, zero five; zero, zero, zero four … that type of stuff. That's what we were just banking on."
Eventually, the Bobcats' big inning came.
BLHS stormed back in the top of the sixth. Nathan Quigley reached on an error to start the inning. Jared Patton doubled, Tyler Ogden singled and Austin Stubbs tripled. Later Garrett Kahle singled as the Bobcats pulled within 5-4.
Baxter Springs tacked on two runs in the bottom of the sixth for a 7-4 lead, but the Bobcats rallied once more. Destry Bryan led off the seventh with a single and Quigley followed with a two-run homer to left field that brought BLHS within 7-6.
Patton followed with a single and Stubbs walked to put two on with one out. Seagar Smith then crushed a line drive that looked destined to reach the outfield, but Baxter Springs shortstop Zak Himes leaped and made a snowcone snag for an out that likely preserved the Lions' lead. Kahle then struck out to end the game.
A stunned group of Bobcats shook their opponents' hands and then cleared out the dugout one last time before huddling with Lohafer. He told them he was proud of them, and he challenged the younger players to make it their goal to return to state.
Baxter Springs went on to finish third at state. The Lions rallied past Pratt 8-7 in the third-place game. St. James Academy routed Spring Hill 9-3 in the state championship game.