I recently got a phone call from Laura Phillippi at the Lansing Historical Museum because she had a visitor there asking questions that she could not answer.
The gentleman's name was Mike Lamm who lives in Overland Park. He is a direct descendent of a man who worked at Lansing State Penitentiary in November of 1879. His great-great-grandfather, Oscar F. Lamm, was in charge of sinking the coal mine shaft legislated by the state of Kansas, which appropriated $25,000 for that purpose. The digging of the shaft began Jan. 15, 1881. I found this information on Skyways Kansas Library System website and that is all the information I could find about this gentleman.
I have no way of knowing just how this shaft was actually built but I assume they used steam power. We know they used steam power to raise and lower the cages to bring the coal and shale to the surface, and lower the workers down into the mine. My grandfather was the hoisting engineer at the mine in 1895 and my father worked in the same capacity from 1910 until the mine closed. It was their job to see that the cages were lowered and raised back up with as much ease as possible.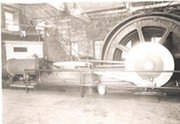 The picture enclosed is of the engine room. The large drum contained wire rope that lowered and raised the coal mine cages. My father is in the upper left hand corner. He operated the levers to increase or decrease the amount of steam that controlled the rotation of the drums. They used their own coal to power the boilers that made the steam.
Many people have asked just how they knew there was coal under the prison, and how deep it was. Indications were first observed by Mr. Jessup, one of the geologists who accompanied Maj. S. H. Long on his expedition through Kansas in 1819-20. Mr. Jessup noted the horizontal position of the strata of limestone in the prolific yield of fossils, and their connection with coal strata.
It is always great to talk to people who are descendents of the early time prison employees. We are hoping to get pictures of what took place back then.