Edwardsville care home resident celebrates 100th birthday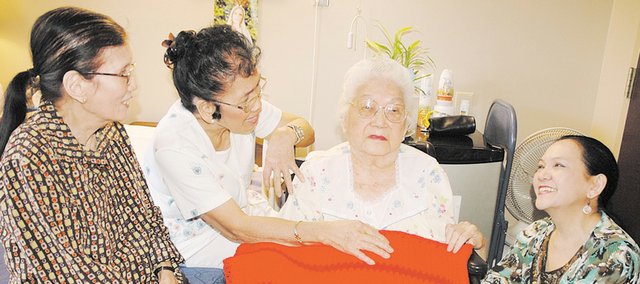 One hundred years of life is quite a feat, but on that, Felisa Pecana is remaining mum, except to say this (with much coaching from her daughter Myrna): "I am thankful to be 100."
At a century old, Felisa has to be in the right mood to speak, her daughters Theresita, Elvie and Myrna Pecana say. They all recall those times where they've seen their mother joke with the staff at Golden Living Center Kaw River in Edwardsville, where she is a resident, or nosily ask female staff members whether they are single or have a boyfriend. But mostly, Felisa likes to sit quietly, as she did late Tuesday morning while her daughters were preparing a party to celebrate her 100th birthday. Felisa wasn't saying much about how it feels to be 100 or all the lessons she's learned in a century of life — she looked more like she wanted to just be left alone to fall asleep, thank you very much.
Eventually, though, her daughters got her to sing, and once she got going, Felisa's voice was clear and strong. She sang a song called "Zamboanga," in which the singer asks their love not to "go to far Zamboanga (a city in the Philippines), where you may forget your darling far away." She still knew all the words; her daughters, who range in age from 60 to 78, said she'd been singing it to them since they were kids.
Life in the Philippines
Felisa was born on May 30, 1911, in Santa Cruz, Laguna, in the Philippines. Her daughters say "she grew up with a family of cooks," having both a mother and father who were known for their good cooking.
But her family also owned a store, and she was working in that store as a young woman the day she met her future husband, Ricardo Pecana. At first he was a legitimate customer, Theresita said, but after seeing their mother, he began frequenting the store as a "pretend" customer so that he could see Felisa more often. Myrna said she believes it was love at first sight for her parents.

Felisa's mother, however, disapproved of Ricardo, so the two eloped in Manila, Philippines, in May of 1931. Shortly after the elopement, the couple returned to Santa Cruz, where Felisa and Ricardo worked in a rice factory owned by Ricardo's family and eventually ran a small grocery store of their own. They had nine children together — one boy and eight girls, one of whom died of pneumonia at age 2 in 1942.
During all this time, Theresita notes, Ricardo was never able to win his mother-in-law over. He died in 1964, causing Felisa's world to come crashing down. Her daughters recall their mother's grief over the loss of her husband.
"And mom would just cry and cry and cry every time she sees everything there that reminds her of dad," Theresita said.
To try to raise her spirits, Felisa's children sent her to live in Manila for a while near some of her grandchildren.
Coming to America
A new world and way of life presented itself to Felisa when, in 1980, she got on a plane and moved to the United States, settling in Shawnee. A painting of Felisa, reproduced from a photo daughter Elvie took of her mother upon first arriving at Kansas City International Airport, still hangs in Felisa's room at Golden Living Center. Clearly, there is pride in having taken such a major step, but Myrna said there have been a few cultural differences for Felisa to grapple with, as well.
"It's totally a different culture from the Philippines, coming to America, because over there in the Philippines we have helpers and maids and drivers who drive for us, but over here, you do everything (yourself)," she said.
Payback time
Another major cultural difference can be seen in the relationship between Felisa and her daughters. While for many Americans living the dream usually includes being as independent of one's parents as possible, Theresita, Elvie and Myrna work in shifts to be with their mother "24-7," as they said, so that there is a daughter on hand to take care of Felisa at all times. There is even an extra bed set up in Felisa's room so that one of the daughters can sleep close to their mother every night of the week.
The three say they enjoy being with their mom so much and giving so much of their own time to helping her.
"Of course we do," Theresita said. "She's our mom and she's been so good to us."
To which Myrna added, "We call it payback time. We have a different culture … we really take care of mom. She's never by herself."
The three sisters recall a mother who was strict and over-protective of her seven daughters, but also loving and generous to a fault.
"One great characteristic of mom's, when she cooks she always cooks extra," Theresita said. "You know why? She sends us to give (the extra food to) our neighbors."
And though Felisa didn't share any great lessons she has learned along the road to being 100, her daughters say they have taken clear lessons from their mother's example.
"That we always have to love one another, no matter what," Theresita said of what she has learned from her mother.
Added Elvie, "The principals of life. She's a principaled lady. Like when you are growing up, you have to be somebody to look up to and you have to follow the rules, not only of the family, but for the good of everybody. And she will not bend that."