Timely hits elude Bobcats in first-round loss to Girard at Class 4A state tournament
Youth-laden Basehor-Linwood softball squad enjoys state experience despite early loss
Clutch hitting eluded the Basehor-Linwood softball team at the Class 4A state tournament and as a result, the Bobcats' goal of defending their state championship ended.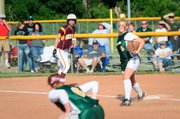 A few untimely errors hurt, too, and Girard beat Basehor-Linwood 2-0 in the tournament opener Friday at Bill Burke Softball Complex in Salina.
A first-round loss wasn't how the Bobcats wanted their season to end. Sure, they entered the tournament as the No. 8 seed, but players and coaches had visions of making another Cinderella run to a title.
At the very least, the Bobcats wanted to advance to Saturday's action and have an opportunity to contend for a trophy.
"All of us were really disappointed," BLHS coach Susan Mayberry said. "We felt like it was an evenly matched game. It could have gone either way. We had runners on base, but could not come up with timely hits to get runs across."
Basehor-Linwood struggled to take advantage of scoring opportunities throughout the game. The Bobcats had eight hits but stranded numerous runners.
In the first inning, Courtney Leive led off with a single and advanced to second on a sacrifice bunt. The next two batters failed to knock her in.
In the bottom of the first inning, Girard scored and took a 1-0 lead.
Basehor-Linwood had runners on base in the third, fifth, sixth and seventh innings, but the Bobcats failed to tie the game.
In the top of the sixth, Basehor-Linwood had runners at second and third with two outs but was unable to push a run across.
Girard scored another run in the sixth inning off of pitcher Brooke Redmond. Redmond was steady on the mound, scattering four hits in six innings of work and striking out eight.
In the top of the seventh inning, Courtney Rist reached base on an error with no outs. She moved to second on a passed ball. Then Redmond hit a line drive, but the Girard shortstop snagged it and flipped the ball to second for a double play. BLHS responded with back-to-back singles by Kayleigh Schoenfelder and Leive. With a chance to extend the game, Olivia Cowan struck out and ended the game.
Basehor-Linwood ends the season with a 16-8 record, which was an impressive accomplishment for a team that was almost completely overhauled from last year's state championship run.
"It was a whole new team; a whole different makeup," Mayberry said. "I feel like as a coaching staff, we had to do a lot of thinking, putting kids in different positions to get optimum performance. I think going to state in back-to-back years is great. Hopefully they understand how hard it is and don't think it's easy. I think if we can stay healthy next year that we can make a run."
Only Shelby Pierce and Redmond stayed in their normal positions this year.
"The other seven players were at new positions," Mayberry said. "For what we had to work with and all the changes that we endured this season, I think a lot of credit should be given to the kids. We are disappointed, yes, but we are looking forward to next season and the group that is coming back."
Pierce is the only starter BLHS will lose to graduation.