Quicker Basehor medical emergency response part of county budget wish lists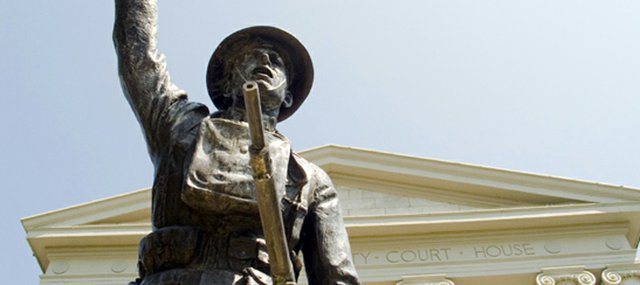 Leavenworth County officials are asking for help responding to medical emergencies in and around Basehor and picking up stray animals from rural areas as county commissioners begin work on the county's 2012 budget.
A new emergency medical services vehicle to be based in Basehor and a new animal control vehicle and staff were among the items on the wish lists of county departments as officials met with the county commission for budget hearings that began last week at the Leavenworth County Courthouse.
Those two purchases were part of about $600,000 in additional funding requested by Leavenworth County Emergency Medical Services and the Leavenworth County Sheriff's Office for 2012.
The EMS department's request sprang from a longstanding desire from the city of Basehor for faster medical emergency response times there, EMS director Jamie Miller said in his department's budget hearing Monday.
The closest EMS station to Basehor is at the county annex in Tonganoxie, and it takes an average of 12 minutes for an ambulance to respond to an emergency in Basehor, according to statistics compiled by the EMS department. The average response time for Tonganoxie is less than 5 minutes.
The department's proposed solution is to add a paramedic assist response vehicle and three paramedics stationed in Basehor. The PAR vehicle, Miller said, would allow a paramedic to arrive at Basehor emergency scenes within 5 to 10 minutes and begin providing care before an ambulance arrives. Especially in the case of cardiac arrest, Miller said, shaving off about 5 minutes from the response time could be the difference between life and death.
"With CPR, with early defibrillation and the medication on board, you increase the chances of survival," Miller said.
Later Monday, Basehor city administrator Mark Loughry said the Basehor area's growing population, as well as the number of children in the Basehor-Linwood School District, created a need for faster emergency responses. Basehor Police Chief Lloyd Martley said that in some cases, ambulances had taken even longer to arrive than the 12-minute average response time.
"In a life-threatening situation, minutes are critical," Martley said.
County commissioner John Flower, who had talked previously with Miller and Basehor officials about the possible vehicle, said that the addition of the PAR vehicle and three paramedics would cost up to $400,000 in 2012 and about $300,000 in subsequent years. The new vehicle would help improve response times throughout the county by giving EMS more response options spread around the county, Flower said.
"While it may look as though there's a favoritism to Basehor, that's not really true," said Flower, who represents the southern portion of the county. "It has a ripple effect throughout the county to benefit everybody in the county."
EMS would rent space to house the vehicle, Miller said, perhaps at the Fairmount Township Fire Department station in Basehor.
The Leavenworth County Sheriff's Office, in its budget hearing Monday, asked for about $300,000 in additional funding for 2012, including about $90,000 to add a vehicle and two part-time employees devoted to animal control.
Sheriff Dave Zoellner said the office was asking for help responding to calls about stray animals in rural parts of the county because citizens had been calling the department increasingly often to ask officers to pick up strays, resulting in time-consuming and costly trips for sheriff's deputies.
"If there's a dog walking out on the road, we get called," Zoellner said.
But sheriff's deputies are not equipped or trained to pick up stray animals, undersheriff Ron Cranor said, and their vehicles are not designed for that purpose, either.
"We're saying we're ill-prepared to deal with some of these things," Cranor said.
The rest of the additional funds requested by the sheriff's office are to replace five vehicles, each of which has been driven for more than 80,000 miles, and to reinstate equipment depreciation funds that were cut from the department's 2011 budget to avoid increasing the county's mill levy.
The preliminary budget hearings for county departments, which continue this and next week, are the first step in preparing the county's 2012 budget. County commissioners must complete that process by about the end of July, county clerk Janet Klasinski said.