2011 Basehor Dairy Days goes down as 'biggest and best'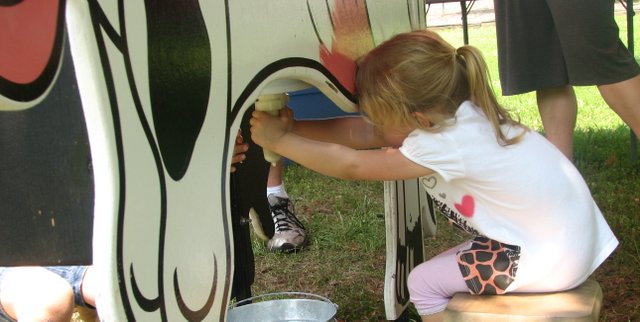 Photo Gallery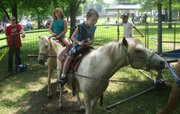 2011 Basehor Dairy Days
Photo Gallery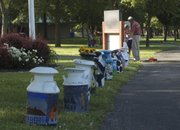 Basehor Dairy Days kickoff
The 2011 Basehor Dairy Days festival kicked off Friday, June 3, with a concert and picnic in Basehor City Park.
Dairy Days 5K winners
First-place male: Chris McGowan, 18:46
First-place female: Dana Schwisow, 21:51
It's been just a few days since the sixth annual Basehor Dairy Days festival went into the books as the "biggest and best one yet," organizer Lila White says.
But that doesn't mean she and other volunteers haven't started thinking about how to make it better for its seventh edition next year.
White said visitors covered Basehor City Park throughout the day Saturday, perhaps encouraged by the sunny weather, and the parking area nearby was kept full, as well.
"We were just tickled that parking lot was full," White said.
The organizers don't keep an exact attendance count, but she said volunteers had guessed that attendance had outpaced that at the previous year's festival, when an estimated 1,000 people came. That would make it the most-attended Dairy Days yet.
"You could just see more bodies," White said.
The festival has drawn larger crowds each year of its existence, she said, as it has offered more attractions.
This year, attendance was highest during the late morning, she said, and thinned out a bit in the afternoon as temperatures increased.
One segment of the population White would like to see at the festival in greater numbers are middle-school- and high-school-aged people, she said.
"We don't really have the teenagers there," she said.
She said she hoped to have something new at next year's festival to appeal to teens. One idea, she said, was to have one of the musical performances be made by a younger band, perhaps chosen by an audition contest.
She said the organizers would make sure to add more handicapped-accessible parking at next year's festival, as well, after one resident in a wheelchair had some trouble getting from the parking area to the festival grounds. By this time next year, the park's parking lot should be paved, which should also help, she said. City plans to pave the parking lot in time for this year's festival were delayed by rainy weather last week.
White said the Gunsmoke and Petticoats Old West Show was again a hit in its second year at the festival, and local bluegrass band the Fairmounters had also impressed enough that she planned to invite them to be the headlining band at next year's festival.
"Those guys were awesome," White said.
White said one planned new attraction, a mobile smoke house designed to teach fire safety, had to be scrapped at the last minute when the Bonner Springs Fire Department did not have enough firefighters available to operate it.
The return of the Basehor Dairy Days 5K run on Saturday morning drew a "great turnout" of about 170 participants, race organizer Elizabeth Novo-Gradac said.
"The weather was perfect," Novo-Gradac said. "The crowd was perfect."
White said several local nonprofit organizations, including the Basehor Kiwanis Club, had reported success in raising funds while operating attractions at the festival. Organizers hire groups to run rides and games for donations rather than hiring workers to do it, in an attempt to keep costs low.
Those low costs are a big part of the festival's attraction, White said.
"I think we were really packed this year because we were really close to home and it was just so affordable," White said.