9th annual Relay For Life reaches $1 million goal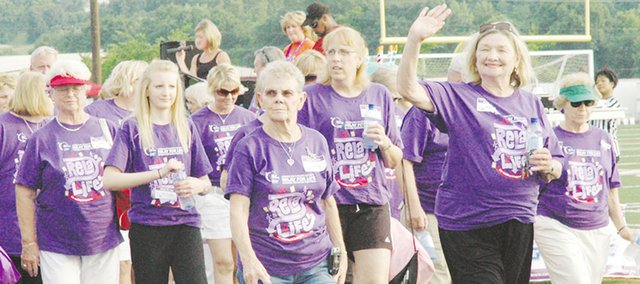 The ninth annual Kaw Valley Relay For Life is set to begin at 7 p.m. Friday at the Bonner Springs High School track, but it already has met an amazing goal.
So far, with 44 teams and 537 participants signed up, it has raised $64,859.74 for the American Cancer Society. In the event's first eight years, it raised a gross amount of $938,459, so this year's event needed to raise just $61,000 to meet a cumulative $1 million mark.
Additional funds raised Friday will just further the commitment of those in the Bonner Springs, Basehor and Edwardsville area to fight back against cancer. But they also will help the event meet $1 million in net funds raised.
Sheryl Chadwick, co-chair of the relay committee, said expenses are about 3 percent every year, so to meet $1 million total in net funds, the event will need to raise $110,000. While the fundraising totals have slowly fallen in the last couple of years due to the economy, even last year's total beat $110,000.
There is still time to contribute to the relay. In addition to attending the event, Chadwick said those looking to support the relay can volunteer or make donations. The relay also is looking for canned good donations for Vaughn-Trent Community Services, which will be used instead of sand to weigh down the luminarias this year. Food items can be taken to the Bonner Springs City Library or can be donated by contacting luminaria chair Katelyn Smith at 231-5518.
The relay also is still welcoming cancer survivors to take part in the pre-relay survivor dinner and first relay lap, which they can do at no charge. Survivors can register online at relayforlife.org/kawvalleyks or contact Linda Long at 441-1280.
The 2011 Kaw Valley Relay for Life schedule is as follows:
5 p.m. Silent auction and luminaria sales begin; concession stands open
5:30 p.m. Survivor Rally at BSHS cafeteria
6 p.m. Kidz Corner, bounce houses open
6:55 p.m. Survivor picture
7 p.m. Opening ceremony, presentation of the colors and national anthem, opening prayer, and survivor, caregiver and first team laps
7:30 p.m. Team pictures
8 p.m. "A Little Hula for Moolah" game
8:30 p.m. Sack races
9 p.m. Messages to Heaven, luminaria sales end
9:15 p.m. Section 1 of silent auction closes
9:30 p.m. Kidz Corner and section 2 of silent auction close
9:45 p.m. Section 3 of silent auction closes; "Queen of the Relay" announced
10 p.m. Luminaria Ceremony
10:30 p.m. Fireworks display
11 p.m. Alligator wrestling
11:15 p.m. Dance lap
11:30 p.m. Heads or Tails game, concession stand closes
12 a.m. Rev. Gusto performs, limbo, coffee bar opens
12:30 a.m. Pizza, volleyball tournament begins, poker lap
1 a.m. Dizzy Bats game
1:15 a.m. Hula Hoop contest
1:30 a.m. Fight Back Ceremony, Sheltered Reality Drumline performs
2:15 a.m. Team Captain meeting
2:30 a.m. Musical Chairs and cup stacking games
3 a.m. Dance hour
3:30 a.m. Committee meeting
4 a.m. Yoga
4:30 a.m. Frisbee games
5 a.m. Sweets at Sunrise
6:45 a.m. Closing ceremony
7 a.m. Final lap