BLHS

student wins prestigious writing award with lobster-alien story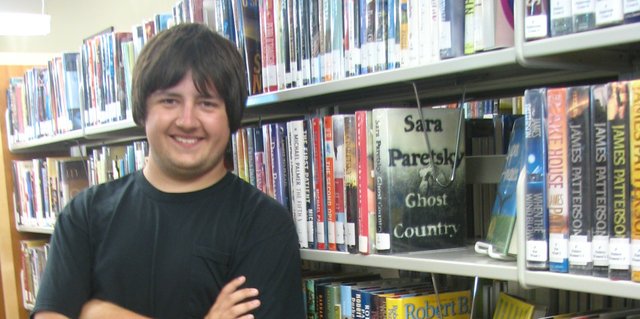 Jimmy Goss knew he was in the running for some sort of writing award, but he didn't understand the significance of the honor until his creative writing teacher pulled him out of a test this May and told him exactly where the ceremony would be.
"I didn't realize that the contest was a big deal until they go, 'Yeah, you're going to go to Carnegie Hall for it," Goss said.
Goss, who graduated from Basehor-Linwood High School in May, was to take the stage at the renowned New York venue because he had won a silver medal in the National Scholastic Art and Writing Awards, in the category of science fiction or fantasy writing. He made the trip last week.
The fact that it was a "big deal" was again pounded home when he found out that past winners in the contest had included Truman Capote, Joyce Carol Oates and Robert Redford, and that about 1,500 students from around the country had received one of the honors, out of about 185,000 who submitted entries.
Neither Goss nor his creative writing teacher at BLHS, Aaron Schwartz, had heard of the contest, which is conducted by the Alliance for Young Artists and Writers, when Schwartz gave Goss a flier advertising the contest one day after class in January. Schwartz said he frequently mentions writing contests to his students, but he approached Goss personally about this one because he knew his interest in writing was serious.
"He really wants to be a writer," Schwartz said. "I handed it to him and told him, 'I hope you really follow through on it.'"
Goss said reading and writing, mostly of the science-fiction variety, takes up close to all of his free time.
"That's about all I do," he said, laughing.
Schwartz also knew Goss had been kicking around an idea for a sci-fi story that might work, about a future world in which humans live alongside lobster-like aliens who have an affinity for drinking caffeinated beverages.
"We have this law, this '50/50' law," Goss said, "that says for every position in society, you have to have an opposite alien in the human position so that everyone's equal — so they don't take over, we don't take over. Everyone evens out."
That means the United States has a human president and an alien president, and each company has an alien and a human as CEO, Goss said. And his main character, a police officer named Rodriguez, rides around in a patrol car with an alien partner.
"It's a buddy-cop story with caffeine-drinking lobster aliens," Goss said.
That premise turned into "50/50," a short story that Goss says touches on issues of racism and prejudice. One friend, he said, compared it to the movie "District 9" in that respect.
Goss said its raising of social issues likely endeared it to the judges.
"The best science-fiction does that," Goss said. "They were looking for more of that higher-level thinking."
Though it started with an intriguing concept, Schwartz said the story's strength is in the development of its characters, which can be challenging for young writers.
"It was subtle," Schwartz said. "It was interesting. And you actually cared about what was going on, and there were people you could be invested in."
It was good enough to earn him a Gold Key Award at the regional level of the competition and then the silver medal at the national level.
While in New York, Goss went to the ceremony at Carnegie Hall, met with officials from the Scholastic book company and visited the offices of The New Yorker, where he and other writing winners got to ask questions of the editors.
Goss said he does hope to be a novelist someday. He's going to Pittsburg State University in the fall to study secondary English education, in order to ensure a steady paycheck as a high school English teacher as he tries to break through as a writer, he said.
Schwartz said he did not doubt Goss' chances of making that dream come true, because of a combination of talent and a work ethic that keeps him constantly writing.
"I would not be surprised if he was a published science-fiction author in the next 10 years," Schwartz said.