Bobcats first believed, then came speed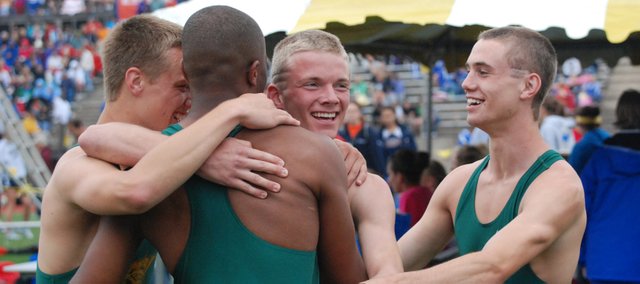 Wichita — A year ago, the Basehor-Linwood boys 400-meter relay team was used to bringing up the rear at track meets.
Even then, there was optimism.
"A year ago they said, 'Coach, we can be at the top of that platform,'" BLHS coach Steve Hopkins recalled. "They knew with Daniel (Prioleau) at the end that they had a chance. They all just believed."
The Bobcats' belief turned into reality Saturday, May 28, when sophomores Trey Kinchloe and Lane Young and seniors Miles Brown and Daniel Prioleau won the Class 4A state championship, but their victory was a year in the making.
STRENGTH AND POWER
With the exception of Prioleau, nobody on the 400-meter relay team had competed at state before. Prioleau had made two trips and returned home empty-handed both times.
He knew he needed to get stronger to get faster. All of the Bobcats did.
That's where BLHS strength and conditioning coach Ross Schwisow came into play. During the summer, fall and winter, if they weren't involved in another sport, they were training with Schwisow.
By the time the first day of track practice arrived in late February, Hopkins noticed a change in his athletes.
"I thought all of the kids' offseason workouts and strength plans really paid off," he said.
From day one, the Bobcats ran faster times. By the second meet of the season, the relay squad was posting times in the mid-44s rather than in the 45- and 46-second range like it did for most of 2010.
REASON TO BELIEVE
Fast forward to late April. The Bobcats were competitive in the 400-meter relay early in the season, but on April 23 at the Kansas Relays they earned their big break when they won the Sunflower Showdown race in 43.60 seconds, setting a BLHS school record for the second time in as many weeks.
"We went to the KU Relays and we were kind of nervous about it because we knew there were some good teams there," Young said. "But once we won that Sunflower Showdown, we knew that we could come here and we could do this."
In the weeks that followed, the relay squad piled up more victories. It took first at the Piper Relays, the Kaw Valley League Championships and the Class 4A regional meet.
By the time the Bobcats arrived at Cessna Stadium in Wichita for the state championships, they were brimming with confidence.
That confidence turned into a positive result during the preliminaries Friday, May 27. The Bobcats set another school record as they smoked the field in 42.94 seconds — far ahead of number two qualifier Rose Hill's time of 43.66.
"We had an OK handoff," Brown said of a flaw in the Bobcats' preliminary performance. "We've been having trouble the past week or so because I've been going a bit late."
The Bobcats headed to the team hotel Friday night believing they could win a state championship during Saturday's finals.
GOING FOR THE GOLD
Bolstered with the knowledge that they'd run by far the fastest preliminary time despite having a few rough handoffs, the Bobcats entered the championship finals certain a state title was theirs for the taking.
Kinchloe was confident when he climbed into the starting blocks. He admits he was a bit concerned about Rose Hill, which ran in a different preliminary heat. Kinchloe had a clean start, however, and quickly dug into the first curve.
The first steps toward a state championship were under way.
"At first I was nervous about Rose Hill because their first leg was really fast out of the blocks," Kinchloe said. "But once we started going I saw he wasn't beating me, so I knew we had it."
Kinchloe's handoff to Young was smooth, but his leg didn't come without a bit of a challenge.
"There was a headwind (on the backstretch), so I had to fight through that," Young said. He dug in and kept the Bobcats in contention before handing off to Brown for the final curve.
Hopkins was seated near the back curve, and at that point he knew the Bobcats had a chance — but there was work left to be done.
"At that point it was looking like it was going to be touch and go," Hopkins said. "I believe at the start of the curve when Miles got the baton we were clearly in third. We were just hoping they'd keep it close enough when they got to Daniel.
"Miles ate up the last four or five strides, and Daniel was at full speed when he got it."
Brown's strong third leg pulled BLHS into second. As he was handing of to Prioleau, Rose Hill dropped its baton.
"When I got it to Daniel," Brown said, "I knew Daniel had it."
Within a few steps after receiving the baton, Prioleau took the lead.
"I had to get first place," Prioleau said of his mindset heading down the home stretch. "That's what I wanted … for me and my teammates."
He quickly built a five-meter lead and never looked back as he motored to the end, grimacing due to a hamstring injury as he crossed the finish line.
The Bobcats' time of 43.15 seconds easily outdistanced runner-up Buhler which finished in 43.50. Hesston was a distant third in 44.03.
After being greeted by teammate Dakkota Edmonds — who won a gold medal in the girls 200-meter dash two hours later — a nearly 20-minute celebration set off. The Bobcats wandered around the infield. Young stood with his hands on his head, a look of disbelief on his face. Kinchloe let out sporadic shouts of joy. Brown gave an occasional celebratory flex. Prioleau simply wandered around and sported a glowing smile.
A year ago, few would have fathomed Basehor-Linwood would win a 400-meter state championship. Now that's a reality.
In that same breath, Basehor-Linwood has had a reputation for a number of years for not being a track school.
"We've heard that before!" Kinchloe, Young, Brown and Prioleau said in unison after accepting their gold medals.
That, too, likely has changed.
"It's always true that success breeds kids wanting to be a part of something," Hopkins said of the difference a state championship could make for the BLHS track program. "For years, we just had our one entry. My first five years we had one kid (qualify for state), and last year we brought a bigger number and this year we brought kids in nine events.
"To bring one young man down here my first year, and now we're here both days to the very end and every couple hours there was another kid we were celebrating. We're really hoping the incoming freshman class — the kids who've thought about track — will see that there's a reward that kids can believe in. Now, hopefully they'll see that you can (win a state championship) in track."