Change of plans, successful tryout land Braves' Smith at Fort Scott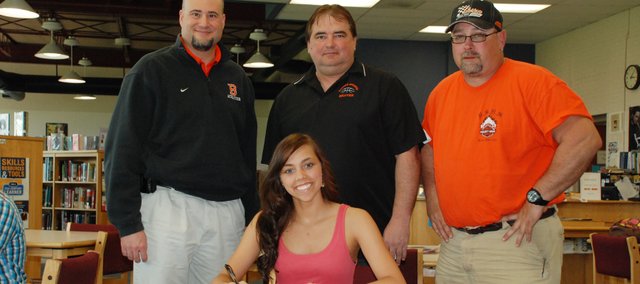 Erica Smith thought she had her college plans sorted out a long time ago.
Shortly after the Bonner Springs High School girls basketball team lost to Sumner Academy in the Class 4A substate semifinals in early March, Smith talked about her college plans.
The Braves' lone senior wasn't done with sports. She was headed to Avila University in Kansas City, Mo., where she planned to study psychology and play on the basketball team. Everything seemed in order.
Two months later, Smith signed her letter of intent May 2 to play at Fort Scott Community College.
"I was set on going to Avila University, and then weird things happened and (the coach) didn't know if I would have a spot on the team next year," Smith said. "I didn't want to pay that much money to go and not be on the team, so I started (looking at other options)."
Smith began firing off recruiting questionnaires to numerous schools in early April. Fort Scott — a school BSHS coach Clay Oakes had talked to Smith about previously — responded. That same day, she hopped in the car with her father, Eric Smith, and hit the road for Fort Scott.
Both Smith and the Fort Scott program came away from the tryout impressed.
"It was really, really fun," Smith said. "There are two girls from Australia and one girl from the Bahamas, and two of those girls have committed now, too. It was really fun.
"The atmosphere was awesome, and everyone loves basketball as much as I do. The coach was so passionate about it just like me."
The Greyhounds have undergone a bit of a housecleaning under second-year coach Diana Couch, unloading some of the roster to instill more discipline, Smith said.
Discipline and leadership are areas where Smith knows plenty about, Oakes said. She was a four-year player in the Braves' program, and she's been a leader by example throughout her career. In particular, she became the Braves' go-to leader as a junior and fulfilled that role again during her senior campaign as she led Bonner Springs to a remarkable turnaround from a 6-15 record in 2009-10 to a 15-6 record in 2010-11.
"They can look at it and see a team that contains only one senior and know that almost all of the leadership, expectations and things were put onto one person," Oakes said. "They'll know that she was the one that was put in charge of being that leader and that player that everybody looked up to during game situations and during practice."
Smith said Couch hasn't informed her of her exact role with the Greyhounds, but she said that isn't a major concern. Smith plans to earn her way onto the court and do whatever is asked of her.
"If it comes down to it, she'll be able to count on me," Smith said. "I'll be the one that will do whatever it takes. I'll be the one that will be on the floor, and I'm always going to be hustling no matter what. Even if I'm having a bad night, I'm never going to give up — and I think she knows that."
For his part, Oakes has no doubt that Fort Scott is gaining a leader and a winner in Smith.
"My message (to the Fort Scott coaches) would be that the player that they saw when she came down and tried out is the player they're going to see every day," Oakes said. "She's going to be the player that's not going to back down; she's not going to be scared of anybody. She's going to go out and give them 110 percent every single day."
Smith is one of the valedictorians of Bonner Springs' senior class. She is the daughter of Eric Smith and Fawn Smith.