Lack of local jobs challenges teen job seekers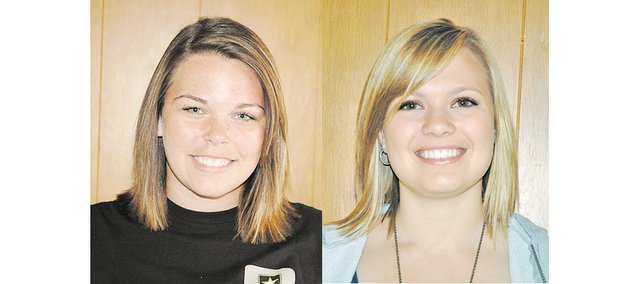 For a lot of young people, the beginning of summer means that search for a summer job. But according to some teens living in the area, summer jobs locally, like in Bonner Springs or Basehor, are rather scarce these days.
Recent Bonner Springs High School graduate Katie Ellingsworth already had a part-time job lined up at Schlitterbahn Kansas City Waterpark when she graduated in May, but now she is looking for a second job. Though she lives in Basehor, she says she has been focusing all of her application efforts on nearby Legends Outlets Kansas City in Kansas City, Kan. She wants to wait tables at night — she works in retail at Schlitterbahn during the day — but Bonner and Basehor don't have the style of restaurant that would fit her need.
"Yeah, there's really not much in Bonner, other than like there's Twisters … and there's fast food, but I don't really want to work in fast food," Ellingsworth said, noting that "Basehor's the same way," having only limited options.
Among others, Ellingsworth said she's applied at Danny's Bar and Grill at the Legends Outlets, where her friend and neighbor Alexis Clark, also a recent BSHS graduate, works. Clark said she's been looking for a second job, as well, and though she had heard of a couple of stores in Basehor that were hiring, she's been mainly banking on finding another job at the Legends Outlets where there are simply more opportunities.
"There's just so many places out there … I just feel like there's so many places so there's going to be more opportunities, and in small places like in Bonner, I just feel there's not as many (places) to apply," Clark said. "They're kind of like local, I feel like, and they're just run by a couple of people and they have a couple of people for staff and that's kind of it. And it's harder to work for a family-owned organization because they always stay within their family group (when hiring), I feel like."
Skip Dobbs, Bonner Springs Parks and Recreation director, said given the limited number of jobs he has available for teens, Ellingsworth and Clark were smart in looking for jobs elsewhere. Dobbs said he was always accepting applications for lifeguards and umpires because of a higher turnover rate in those areas. But every other summer position, from maintenance to concessions at Lions Park, has been filled.
"It's hard to say if there's plenty of jobs (locally)," Dobbs said. "Obviously it's not if there's a lot of teenagers and they can't find jobs."
Cory Richards, assistant manager of the new Nuts and Bolts True Value in Bonner Springs, said the hardware store wasn't hiring right now. He said the store "had a flood of people" apply when it opened a month ago and all positions had been filled about a week or two later. But he said he expected another round of hiring to take place in September. He added that you never know when positions might open.
"There's always an opportunity at Nuts and Bolts," Richards said. "You can always come fill out an application and we'll always take a look at them."
Regardless of the opportunities at Legends Outlets, Ellingsworth and Clark say they've still found the job search challenging at times. As of Monday, Clark said she had an interview lined up with Ann Taylor Loft Outlet, but twice already during her job search she's called to check back in on an application and the business has told her it's no longer hiring. This has been frustrating, to say the least, she said.
"I feel like I had a little bit more easier time last summer just because I don't feel like there was such a need for teenagers in a summer job," Clark said. "I feel like now there's more of a demand for it so there's not as many positions available. And I was really persistent last summer, too."
Ellingworth said last summer it was difficult for her to find a job — she finally landed one at the Gap Outlet toward the end of the summer — and this summer she expects more of the same.

"I think it's going to be difficult just because it's not very long, the summer's not very long," said Ellingsworth, who plans to attend Baker University in the fall. "So since I'm going to college, I feel like it'll be harder to find a job here before I leave."
Still, at only 18, Ellingsworth and Clark know what it takes to, at least eventually, land a job. Clark says you have to be tenacious in the search; don't be afraid to call back.
"A lot of times I feel like if you don't call back, they're just going to kind of pick which (applications) are on the top (of the pile) and just go," she said. "And if you are persistent and you call back and you make the effort, that shows that you really are willing to work and you really want it."
It also helps to know someone who already works for the business, Ellingsworth said.
"I feel like if you know people, it's easier to find jobs because that's someone that makes you stand out if you get (a) recommendation," she said. "… (Otherwise) you're just one of the group, 'cause there's a lot of people looking for jobs."