State championship 'so exciting' for
BLHS

 star Edmonds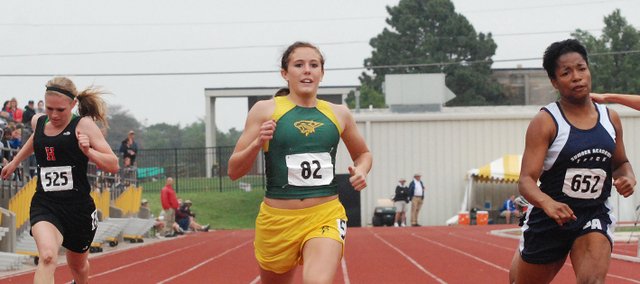 Wichita — An unshakable smile graced Dakkota Edmonds' face as she watched the Basehor-Linwood boys 400-meter relay team ascend to the top of the awards stand and accept its gold medals as state champions.
Edmonds had been the first to congratulate the Bobcats after their race, and she celebrated the accomplishment.
All the while, she wanted her turn at the top.
As a sophomore, Edmonds won a pair of fourth-place state medals in the 100- and 200-meter dashes.
Now a BLHS junior, she wanted more. Edmonds already owned a silver medal as the state runner-up in the 100 at the Class 4A track and field state championships from earlier in the day Saturday, June 28.
It was an improvement, but not good enough for her — especially now.
"They looked so happy," Edmonds said of watching the boys receive their gold medals. "Seeing them so happy made me think, 'Oh gosh, I want this so bad!'"
Fortunately for Edmonds, the 200 finals were about two hours away.
"I was wanting so badly to at least just get one gold medal this year," she said.
Late Saturday afternoon, Edmonds went through her warm-up routine, checked in and then made her way to the starting line. Edmonds was in lane five. Next to her in lane four was Sumner Academy senior Tyler Sloan, who'd edged Edmonds in the 100 finals by .06.
The start was clean, and Edmonds dug into the curve.
"A couple weeks ago she false-started at Piper," BLHS coach Steve Hopkins said. "She worked really hard because we thought if her start could get a little bit better it would make a big difference. That was the first meet she beat Lenia Goff (of Piper), and it let her know if she could do it once she could do it again.
"She came around that curve (in the 200 finals), and she just had violence on her face. She was going to get to the finish line first — and that's been her attitude the last three weeks. You could really see it right in the beginning of that 200."
Edmonds protected the stagger on the curve and emerged into the home stretch side-by-side with Sloan. It was a two-girl race during the final 100 meters as neither gave an inch.
"Honestly, I didn't see her in front of me the whole time," Edmonds said. "That's when I was just like, 'You know what, I'm going to keep running and do it just like this.' It pushed me harder to know that she wasn't even in front of me."
Edmonds nudged ahead during the final 20 meters and crossed the finish line.
A smile broke out on her face as she glanced at the video board that revealed the final order. She'd won in 25.18 seconds, Sloan was a close second in 25.32 and Russell senior Peyton Weiss was a distant third in 25.91.
"It made me happy," Edmonds said of seeing she'd won. "Oh my God, it was so exciting!"
A few minutes later, it was Edmonds' turn to step to the top of the awards stand and hear her name announced as a state champion.
The same smile she wore while watching the BLHS boys receive their gold medals was back on Edmonds' face as she accepted hers.
It was the crowning achievement so far in Edmonds' career, and it's one she'll never forget.
"(Hearing my name felt) awesome," Edmonds said. "Oh my God, it felt great!"