10-year-old among relay's cancer survivors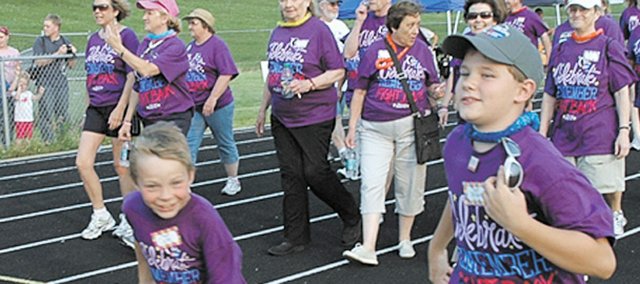 Wilson Bledsoe took to the track Friday at a walk with his friend, Cade Stapp, but about a third of the way around, Wilson decided he needed to make good on his promise.
Photo Gallery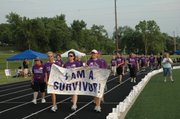 2011 Kaw Valley Relay For Life
Before the rain began falling in earnest Friday, a large crowd turned out for the Ninth Annual Kaw Valley Relay For Life at the Bonner Springs High School track. Even before the event began at 7 p.m., the relay met its goal of raising enough money to make $1 million raised cumulatively in its nine-year history.
This year, he wasn't just going to walk the survivor's lap of the ninth annual Kaw Valley Relay For Life — he was going to run it.
Though he is only 10, Wilson, of Tonganoxie, has been a cancer survivor for as many years as the Kaw Valley relay, a fundraiser for the American Cancer Society, has been in existence. At 8 months old, Wilson was diagnosed with stage 3 neuroblastoma, but on Dec. 7, about a month after his 11th birthday, he will mark 10 years of being cancer-free.
But Wilson also learned the hard way that cancer can't always be beat. Seven years after Wilson defeated the disease, his grandmother, Sandi Sybrant, died of lung cancer.
Her death gave the family even more reason to support the Relay For Life and encourage others to do so, as well.
"For him and I both, it just strives us more to do what we can to raise awareness and tell people, 'Hey, we've gotta get cancer out of here," said Clara Sybrant, Wilson's mother.
Clara said the first indications of Wilson's cancer were that he was growing too quickly.
"A month before diagnosis, (his father) had made comments that 'You're feeding him too much, he's getting chunky, he's getting fat,'" said Sybrant, a Bonner Springs native. "I just took that as he was growing."
But then Wilson began throwing up a lot and having a hard time with bowel movements. It got to the point where if anyone else other than his parents held him, he would cry. So Sybrant saw a nurse practitioner, who said the problem was due to an umbilical hernia, which Wilson would outgrow.
Thankfully, Wilson's grandma, Sandi Sybrant, didn't think this was right and insisted on a second opinion. So they visited a doctor in Tonganoxie, who agreed that Wilson did have a hernia, but she felt something else wrong and sent them to Children's Mercy.
Again, Sandi was the one who helped get Wilson to the hospital for an ultrasound right away. There, doctors found a tumor the size of a softball growing on the adrenal gland of his right kidney.
"She says, 'I'm going to have to refer you to an oncologist,'" Clara said of the ultrasound. "At that point … my mom is looking at me like I'm about ready to pass out, because I knew what oncology meant. I knew that was the technical term for cancer."
Sybrant had had a great-grandfather and grandfather who had died of cancer but no incidence of childhood cancer in their family, and the idea hit her hard. As they watched Wilson go through surgery to remove the tumor and his kidney and four months of chemotherapy, Sandi remained calm at times when Clara felt hysterical, strong at times when Clara couldn't watch Wilson going through pain.
Clara credits her mother both with Wilson's early diagnosis and with being a needed support system on his road to recovery. He had his last round of chemotherapy on his first birthday, Nov. 13, 2001, and about three weeks later, doctors declared him in remission.
"They explained to me that had we ignored the symptoms, things could have been very different, we could have had a different battle on our hands," Clara said. "… If it wasn't for his grandma, his story could have been very different."
Wilson and his grandmother continued to grow close through the years, with her attending follow-up doctors appointments and baby-sitting. Wilson was at Sandi's home in the fall of 2007, decorating for Halloween, when she fell and broke her wrist.
When she went to the doctor for her wrist, Sandi also had a CAT scan and chest X-ray because she had previously had open-heart surgery. The scans revealed spots on her lungs, leading to a diagnosis of stage 4 lung cancer.
On March 28, 2008, five months after her diagnosis, Sandi Sybrant lost her battle with cancer.
"This shocked Wilson to his core, and it was a difficult time afterward for him and all of our family," Clara said.
Clara and Wilson have been attending the Kaw Valley Relay For Life since its inception, and the loss of Sandi only deepened their commitment to the cause.
Meeting other survivors, like Cade, who also beat neuroblastoma, has only provided more motivation, and Clara said she hoped in the future, the relay could do more to spread awareness of the need for childhood cancer research.
"It stunned me to see how little research there is for childhood cancers like my son's," Clara said. "Look at Wilson. He is 10 years post-treatment, hardly any side effects; I want parents to have the same type of story that I had with Wilson."
The ninth annual Kaw Valley Relay For Life met its goal of raising a cumulative $1 million in gross funds raised in its history, with $84,786 raised before the event began Friday. It needed to raise about $110,000 to meet a cumulative total of $1 million in net funds, since about 3 percent of money raised annually covers costs.
Unfortunately, thunderstorms required the event to shut down shortly after 9 p.m. Friday, and because of the storms, the total funds raised have yet to be calculated as teams continue to turn in their donations, according to Sheryl Chadwick, co-chair of the event.