Arm injury doesn't derail Patton in quest to play college baseball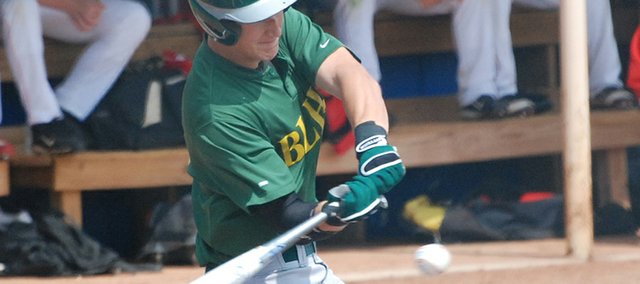 Nearly two years after suffering an injury that he feared would derail his baseball career, Jared Patton will continue playing at the college level.
Patton, a pitcher and catcher for the Basehor-Linwood baseball team, signed a letter of intent to play for the University of Nebraska-Omaha.
The signing was one special moment in his baseball career and provides him the opportunity to continue playing a sport he loves. Growing up, Patton always hoped he would play college or professional baseball, but he sometimes wondered whether he could play at that level.
There were other times when his future in the game looked unclear because of injury.
"It feels good, I guess," Patton said of signing his letter of intent. "I never thought I would play Division I baseball after my surgery, but I persevered and got it done. It is surreal. It is every kid's dream to play Division I baseball."
Patton signed the letter of intent less than two years after an arm injury nearly ended his career.
Two years ago, Patton was pitching in a fall baseball game. On one pitch, he threw a fastball and felt like "his arm blew up."
He knew something was wrong, but he hoped it would go away.
Patton threw another pitch.
The pain got worse. He pulled himself from the game. His elbow swelled up. Patton went and saw a doctor who said he needed what is known as Tommy John surgery to fix the elbow injury.
"It was terrible," he said. "I didn't know what happened until we went to the doctor. My doctor said there was no ligament there."
After surgery, Patton was told it would take a year to recover.
Patton worked diligently to rehab the injury, doing what he could to return to baseball and trying to be patient.
He worked hard to return to action, serving as a designated hitter for the Bobcats as a junior. He was able to throw in the summer and attended some catching camps.
At the camps, he drew the attention of Division I schools and eventually signed with Nebraska-Omaha.
Patton went on to pitch and catch as a senior at BLHS, and he helped the Bobcats advance to the Class 4A state tournament.
He projects to be a catcher in college and has been timed at throwing 80 miles per hour-plus from home plate to second base. Looking back on it, he sees the injury as a blessing.
"I think it helped me in the long run; my arm is stronger than ever," Patton said. "Everyone else complains about their arms hurting, but now mine hurts for a day and then it will be fine. It is like a new arm."