Basehor-area residents travel to Joplin to help out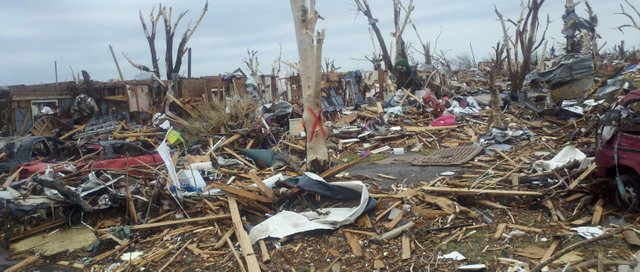 Even before they drove into Joplin, Mo., late last month, Amber and Josh Wade had an idea of what it's like to lose everything.
The Wades lost their home and belongings to a fire in Edwardsville in 2009, and the support they received from family, friends, their church and even business clients overwhelmed them, they said.
So when they found out that hundreds of people in Joplin needed such support on an even larger scale after a devastating tornado hit the city on May 22, there was no question that the Wades would try to help somehow.
"It wasn't even, 'Well, should we do this?'" Josh Wade said. "We kind of just looked at each other in agreeance, you know: 'We're going down.'"
The Wades were some of a number of Basehor-area residents who traveled to Joplin during Memorial Day weekend, a week after the tornado, to help with recovery.
They took their GMC Yukon SUV to Joplin that weekend to deliver donations they'd collected from friends, church members and clients from Amber's business, Wagg'n Tails Day Spa.
When they heard about the destruction, they said, their mind went first to the children whose homes had been destroyed. They remembered that the gifts that had meant the most after their house fire were stuffed animals or toys from the movie "Cars" that people gave to their son Peyton and daughter Taylor, who are now 5 and 4, respectively.
"Anybody who brought that kind of stuff, that's the stuff that helped them get through it," Amber Wade said, "and as long as they were getting through it OK, then we were fine."
When the family drove through the section of town that had received the brunt of the damage, Josh Wade said, Taylor became troubled.
"When we actually got to the part that got destroyed, my daughter, she got kind of upset toward the middle," Josh said, "saying, 'I don't want to see the broken part of town anymore. I want to leave.'"
Amber Wade recalled one image that stuck in her mind as the family drove through the city: All that remained of one house was a closet that stood amidst the debris, she said, and in the closet were three young girl's dresses, untouched.
"That was really hard," she said.
Olie Olesen, a volunteer firefighter for the Fairmount Township Fire Department who also visited Joplin, recalled talking with a man who was sitting in a chair in his front yard as his family searched the rubble of their house for belongings. The family had recently bought the house and was fixing it up, he said, and they had just finished shampooing the carpet when the tornado hit.
"He said, 'Well, we gave it to God, but at least we had the carpets clean for Him,'" Olesen said.
Olesen also went to Joplin during Memorial Day weekend, along with Erik Lynnes, a Basehor police officer, and Tony Turner and Kyle Savner, two other Fairmount firefighters.
Once there, the group joined with a search-dog team from Arkansas to search for bodies in a six-by-seven-block area in the heart of the tornado's path. They did not find any.
Lynnes said he noticed a trend in the stories told by people who survived the storm in that heavily hit part of town.
"It was never a story of how they survived," Lynnes said. "It was a 'where.' Because no one could tell you how."
Basehor City Council president Dennis Mertz recalled an unlikely run-in he had while volunteering in Joplin that same weekend. He was helping a local radio station collect and hand out supplies from a grocery store parking lot when a man approached just as the operation was shutting down for the day.
"This guy asked me if we wanted any more supplies," Mertz said. "I said, 'What do you have?' And he said, 'I've got nine semi-trailer loads.'"
The man was Herb Schmidt, executive vice president of Con-way, Inc., a $5 billion shipping company. The company's trucking division had helped ship loads of donated items to Joplin. Mertz then led Schmidt through town as they searched for a place to drop the goods off.
Attorney KiAnn McBratney, who is also the Basehor city prosecutor, went with Mertz to Joplin. While there, they also helped residents search the rubble for belongings and made a trip to a Target store for some drink mix packets for residents tired of the taste of the bottled water they'd been drinking for days.
"It was just real humbling, you know, to see those people without anything," Mertz said.
Mertz said he planned to make another trip to Joplin as soon as he got a chance.
The Wades also said they planned to return, in early July, with another truck full of donations, the displaced children still on their minds.
"The little things are what, you know, help the kids," Amber Wade said.