Basehor service groups unaware of revoked tax-exempt status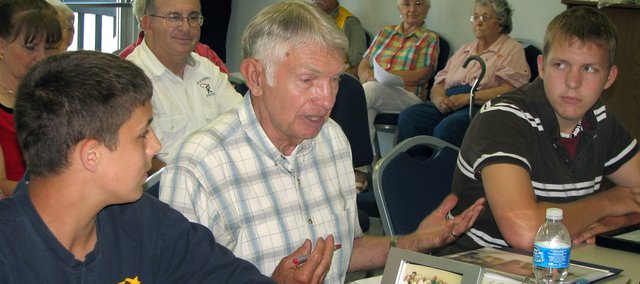 Leaders of two Basehor service organizations said it was news to them when the Internal Revenue Service announced last week that it had revoked their groups' tax-exempt status.
Basehor Community PRIDE and the Basehor International Association of Lions were two of about 3,000 Kansas nonprofit organizations on a list of groups that had their tax-exempt status revoked by the IRS because they had not filed required annual reports for three straight years. The IRS released the list, which contained about 275,000 groups from across the country, on June 8.
Chuck Wilderson of PRIDE and Doug Bittel of the Lions Club both said they had not been informed that their organizations had landed on that list before the Sentinel contacted them for comment.
Wilderson said PRIDE's inclusion on the list was the result of an apparent mix-up, while Bittel said the Lions likely ended up on the list because of time-consuming IRS filing requirements that were difficult for the small volunteer group to keep up with. Wilderson, Basehor PRIDE president, said he was perplexed that PRIDE had appeared on the IRS list, because the group had never filed to be exempt from taxes in the first place.
"We haven't filed," Wilderson said, "and to the best of my knowledge, we never were tax-exempt."
Wilderson has been a member of PRIDE since its formation about 17 years ago. He said the group had no plans to file for tax-exempt status in the near future, either.
The Basehor Lions Club, treasurer Doug Bittel said, did claim tax-exempt status, but this was the first he had heard of a new annual filing requirement that has been in place since 2007.
The Pension Protection Act passed by Congress in 2006 put in place a requirement that tax-exempt groups file an annual information return with the IRS. If groups fail to file that return for three consecutive years, the law dictates, their tax-exempt status will be revoked.
The 275,000 groups listed by the IRS last week are the first to fall victim to that requirement. The IRS believes that most of the listed groups are no longer in existence, a release said.
Bittel said the small Basehor Lions group simply did not have the time or resources to keep abreast of changing IRS regulations. The group's roughly 20 volunteer members each have full-time jobs, families and other responsibilities, he said, and the task of managing finances is left to a treasurer who serves a term of one to two years.
"At least in our group, I don't know if anybody has time to keep up with all that stuff," Bittel said.
The Basehor Lions help Basehor-Linwood Assistance Services with its holiday Adopt-a-Family program and also help pay for disadvantaged children to receive eyeglasses, Bittel said. He said the group takes in "a couple thousand a year" in revenues by taking donations while serving hamburgers at community events.
"All we want to do is make a small contribution to improving our community," Bittel said.
Some small groups will be able to re-establish their tax-exempt status for a $100 fee, the IRS release said. Bittel said that if the Basehor Lions are granted that option, it would not be a problem for the group. He said he planned to appeal to the state and national Lions organizations, and their larger nets of resources and staff, for help navigating the IRS requirements.
About 50 other Lions groups from around the state were among the Kansas organizations on the IRS list.