Bonner church celebrates 50th anniversary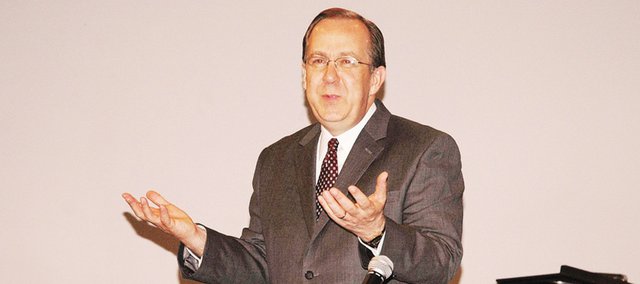 Bonner Springs Church of the Nazarene celebrated its 50th anniversary over the weekend with the promise to grow and continue to serve the community for another 50 years.
The church had a special service Sunday to remember all that had happened since its founding and look to the future, with remarks from three former pastors and reading of letters from several other former pastors.
Evan and Ethel Dalaba were the first to try to plant a Nazarene church in Bonner in the 1950s, but they couldn't get permission from the supervising district for the Church of the Nazarene. Then, in 1960, the Rev. Alfred Swain got the go-ahead from the district but couldn't get any sort of monetary assistance for starting the church.
Undeterred, the Swains and Dalabas joined forces and rented a building in downtown Bonner that formerly had housed the Iris Theatre, holding the first service in 1960 with 18 people. But it was in 1961 that the district formally organized the church with 14 charter members.
The church used the theater building for about two years before purchasing the Christian Church Campgrounds, today known as South Park. In 1980, Church of the Nazarene sold the land to the city and started building its present facility at 742 Nettleton Ave.
On Sunday, Bill Rushing, who served as the church's pastor from 1985 to 1989, remembered the growth of the youth programs during his years at the church. He remembered one evening baptizing about 20 young people, including his daughter. He said that thanks to the youth leader, the youth program grew from about 12 to more than 100.
Though Rushing no longer lives in the community, his mother and sister still live in the area and attend the church.
"I remember the warmth of the people," he said. "It was just an awesome, awesome group of people."
Church members also shared memories of faith. Ernest Reed spoke about a time when he was part of a special prayer group for services, and during one service, while praying alone, he suddenly felt the need to pray for his daughter.
After the service, he learned his daughter had been in a serious car accident. Though she often didn't wear her seat belt, this time she had been wearing it, and it saved her life.
"We never know how our prayers impact God," Reed said. "… I thank God for that hour of prayer."
Jeren Rowell, district superintendent for the Church of the Nazarene, encouraged church members not to rest on their laurels and continue to grow and reach out to the community.
"When this church is at its most effective is when it's empty — when we're out there," he said.
Nathan Hann, current pastor, reminded the congregation the church had recently purchased the neighboring property and had plans for future expansion.