City's no-kill animal policy comes with costs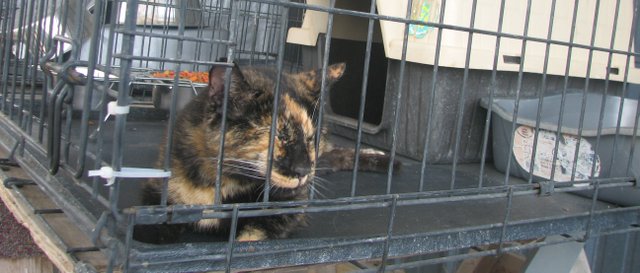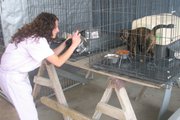 Around 7 a.m. today, and again this evening, Slim Wilson will drive through the sliding gate in the chain-link fence that guards Basehor's water treatment plant to visit a cat he picked up near Basehor-Linwood High School this past weekend.
As the plant's machinery hums loudly nearby, Wilson will open the cat's three-by-four-foot cage, in a shaded area under an overhang. He'll give it food and water and change its litter box. He doesn't know where the cat came from or if it's ever had a home or an owner, and he doesn't know where it will be in a few days.
If this cat had been picked up two years ago, the city would have probably euthanized it. Now, the city will likely pay about $80 to a veterinarian's office or the Leavenworth County Humane Society to take the cat in a few days.
That's an expense Mayor Terry Hill did not expect when he pledged in early 2010 that Basehor would become a no-kill city, no longer euthanizing stray animals when it could not find a home for them. Those $80 fees are adding up, prompting Hill to ask city council members at last week's work session to work to figure out a way for Basehor to treat stray animals humanely without breaking the bank.
"We budgeted $3,000 for animal control, and it's going to be $10,000 before we know it," Hill said this week.
The city's animal control department consists of Wilson, a retired police officer who serves as an on-call employee, as well as his truck and the four cages at the water treatment plant used as a temporary holding shelter — emphasis on "temporary," police chief Lloyd Martley said.
The area just isn't designed to keep animals for more than a few days, he said. Stray or feral cats, especially, have prompted frequent calls from residents recently, prompting Wilson to pick them up. After a few days, if no owner claims them, he starts to look for somewhere to take them.
Local shelters and veterinarians often are unable to take animals and find room for them, leaving Wilson to call facilities throughout the Kansas City area.
"We're being told, 'Sorry, we don't have room,'" Martley said.
And when they find somewhere that can take a stray, he said, the city usually is charged an intake fee of about $80, whether it's to a Leavenworth County Humane Society foster home, a veterinarian or somewhere else.
"That's a lot of money, and it's citizens' taxes that are paying for that," Martley said.
Hill announced that Basehor would become a no-kill city after a number of residents requested that the city make that change, he said, and even more residents cheered the news.
"It seemed to just get a tremendous amount of traction," Hill said. "People were more interested in that issue than any other one I brought up."
A group even formed, led by former city council member Bill Moyer, to plan and recommend other changes that would allow the city to stop euthanizing animals. But the group never ended up meeting, and Moyer is no longer on the council.
Crystal Blackdeer, president of the Leavenworth County Humane Society, had agreed to help on that committee, and she said such a group of residents would likely be the best way to determine how Basehor can remain a no-kill city.
"It's the citizens of Basehor that need to decide how it is they want to approach this and what they need to do," Blackdeer said.
She would be glad to help with such a committee, she said, but she is not a Basehor resident, and LCHS serves the entire county and is unable to lead a no-kill effort in Basehor.
Paul Grosdidier, a veterinarian for the Kansas Animal Health Department, said Basehor's problem was not unusual for cities that choose not to euthanize animals at their shelters, which are frequently small and designed to be temporary.
"Unless you get people to come through the door and adopt them and everything," Grosdidier said, "at some point you run out of space to keep them."
Grosdidier said Basehor's pound and shelter license required the city to hold on to stray animals for at least three business days to allow owners to claim them, and after that the city could do what it wished with them, with a few limitations. For instance, the city could not adopt an animal out to a new owner unless it spayed or neutered the animal first or collected an equivalent fee from the new owner.
Martley said the LCHS, veterinarians and others could help alleviate the problem by charging a lower fee for taking animals in.
Blackdeer said the LCHS' $80 intake fee typically paid for only a fraction of the veterinary costs required when the group takes in a stray animal with no health records, though.
LCHS is also limited in its ability to take in strays, she said, as it does not have a shelter and relies on volunteers to serve as foster owners for any animals it takes in.
"No matter how many foster homes we recruit, there's going to be some that we won't be able to take in," Blackdeer said.
Kelly Lightfoot, veterinarian at Basehor Veterinary Clinic, said the problem of stray animals was a tough one to solve — local agencies frequently don't have the resources to take in animals, meaning they're left in the wild where they reproduce, causing the problem to grow worse.
"It's like a vicious cycle," Lightfoot said.
Hill and Martley both said they did not want the city to scrap its no-kill policy. But keeping the policy in place would require some additional problem-solving, Hill said, and interested Basehor residents may need to chip in.
"I'd like to see some motivated people that have a passion for this issue become involved," Hill said.