Honor roll: Basehor-Linwood High School, second semester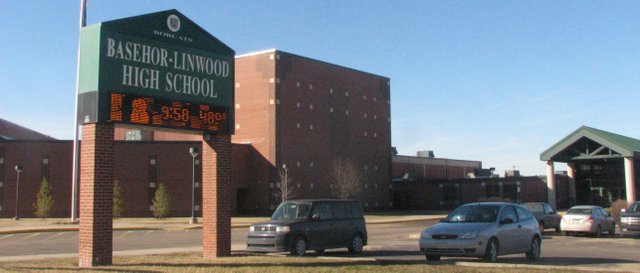 The following students were honored with a spot on the Basehor-Linwood High School honor rolls for the second semester.
Bobcat Honor Roll: 4.0 GPA
Rachel Bennett, Megan Bergstrom, Janrae Bondoc, Deric Brannan, Alexandria Bright, Jessica Budy, Russell Clark, Rachael Cook, Brandon Cordell, George Davis, Paige Dickey, Emily Dye, Kathleen Eberth, Emily Engler, Shelby Equels, Ellen Farris, Jessica Farris, Kelsey Fenton, Avery Fliger, Hannah Ford, Amber Garver, Bryce Garver, Tanner Garver, Nick Genz, Zachary Hevel, Trevor Hickman, Brent Higgins, Caleb Hiss, Jesse Hiss, Sarah Hopkins, Courtney Inlow, Garret Kahle, Clayton Kaminski, Benjamin Kamm, Cameron Kennedy, Jared Kenton, Carter Kleoppel, Morgan Kleoppel, Emily Knapp, Courtney Leive, Danae Leppke, Joseph Levinson, Owen Lewis, Andrew Lillich, Reba Lillich, Nathan Lucas, Emily Lynch, Kristin Mance, Cory McCleary, Jack McCraney, Emily McDowell, Reese McDowell, Shelby McGhee, Austin Mecum, Carissa Mikesic, MacKenzie Mitchener, Cheyenne Morris, Grant Moyer, Landon Nigh, Jacob Peterson, Courtney Poe, Alexandria Powell, Eric Purrington, Brooke Redmond, Paul Rehm, Sara Reh, Ashlee Richardson, Hailey Robinson, Abraham Ruffcorn, Macyn Sanders, Spencer Scherer, Elizabeth Schler, Kayleigh, Schoenfelder, Melissa Seaman, Samuel Seaton, Alex Shewmon, Caylea Siler, Trent Smith, Zachary Smith, Abbey Stallbaumer, Haley Stallbaumer, Kara Stephens, Austin Stubbs, Steyr Stubenrauch, Alexis Tate, Katie Tindell, William Trout, Hannah Tush, Rachel Van Fleet, Haley Waters, Megan Wheeler, Jennifer Whipple, Molly Whipple, Caleb Wilson and Jacob Zamora.
Gold Honor Roll: 3.67 GPA or above, with no grade lower than a "B"
Laura Beebe, Marcas Box, Alexis Douglas, Eli Elliott, Natalie Engler, Matthew Higgins, Rachel Kamm, Allison Kasick, Nicole Kneebone, Taylor Leach, Jade Mauzey, Cara McCarty, Otto Metzger, Taylor Miller, Jessica Morris, Brooke Olesen, Courtney Payne, Emily Powell, Danielle Ridder, Samantha Rutherford, Rachel Savner, Sarah Scott, Mark Vitt, Makayla Weiser, Haley Williams, Lakin York, Ashley Morris, Gabe Potter, Kortney Rist, Kaylene Skidmore, Jordanne Tillman, Destry Bryan, Brittany Laney, Sheridan Miles, Evan Theno, Ashley Cody, Bridget Davis, Caroline Dickinson, Benjamin Forshee, Jacie Harris, Allison Heinen, Angelina Hulse, Dalton Inlow, Katie Lackner, Justin Mance, Madeleine Mikinski, Chellcy Miller, Anna Novo-Gradac, Brent Waller, Sydne Eriksen, Hannah Kenton, Joshua King, Dalton Mellies, Skylar Ross, Cortney Wise, Brittany Billinger, Kaitlyn Brandt, Raime Harvey and Carianne Keck.
Green Honor Roll: 3.0 GPA or above, with no grade lower than a "C"
Austin Laing, Dylan Nigh, Aaron Radke, Rebecca Borders, Kylie Brandt, Brienna Bright, Tyler Carey, Christopher Cody, Richard Dixon, Megan Downing, Breann Drew, Megan Knight, Tyler Sams, Alyssa Stubbs, Tanner Tavis, Mario Vlasic, Lane Young, Breonna Yungeberg, Caden Blackwood, Jared Patton, Cassidy Cooper, Caleb Johnson, Zacharie Klover, Hayley Webb, Allison Crist, Taneka Albrecht, Amber Baumgartner, Amanda O'Bryan, Jayce Rymer, Talia Armstrong, Skyler Barnes, Shelli Brannan, Taylor Cameron, Madisyn Edmonds, Antonio Ferro, Cameron Finley, Alexandrea Gorman, Alexis Hunt-Frank, Sarah Jacobs, Ben Johnson, Courtney June, Joseph Lust, Anne Mallamo, Zachary McNabb, Jacob Merrick, Megan Perkins, Jacob Phillips, Sean Potter, Danielle Rohr, Olivia Russell, Connor Scherer, Ariel Smith, Colten Stevens, Nicole Vasquez, Sydney Weible, Courtney Doty, Erin Krueger-Foster, Heather Russell, Luke Billquist, Spencer Colvert, Olivia Cowan, Marissa Dove, Ethan Duffey, Spencer Himpel, Amelia Kane, Ryan Murphy, Madison Richardson, Kodi Smith, Cory Stephens, Joanna Verbenec, Devan Belt, Samuel Billquist, Devan Carmichael, Luke Carmitchel, Daniel Cygan, Rachel Eberth, Heather Mitchell, Cindy Roberts, Brett Selanders, Austin Sinclair, Nicholas Stahl, Samuel Tady, Emily Vaughn, Shonna Walcott, Mackenzie White, Brooke Wilson, Lynda Morrell, Brooklyn Hogfoss, Kelsie Belk, Lyndsey Berry, James DeWitt, Dakota Foster, Brady Hooks, Morgan Kunard, Symon Seaton, Katlyn Weinkauf, Victoria Bejarano, Mallorie Belk, Shanna Breuer, Logan Brown, Maecy Cooper, Samantha Dacus, Jennifer DeWitt, James Downing, Johnathan Fulkerson, Lauren Leiker, Lorae Morris, John Pierson, Victoria Powell, Sadi Robinson, Chase Ryder, Brandi Stahl, Jefferson Storms, Josh Summers, Justin Summers, Lucas Watts, Gage Wiser, Brittany Randall, Brett Martin, Tony Hernandez, Austin King, Kaitlin Allen, Ashley Ladd, Neal Dickinson, Maggie Hattock, Amanda Keopke, Tanner Schoepflin, Ryan Shaffer, Alec Smith, Zachary Tucker, Jacob Boyer, Hannah Buck, Malorie Crutchfield, Edgar Diaz, Dakkota Edmonds, Kanyon Edwards, Samuel Fahrenkrug, Cierra Garrison, Tristan Hayes, Alex Jackson, Courtney Jordan, Courtney Lacy, Broc Lindsay, Julie Lough, Joseph Merino, Bret Meyn, Colin Murphy, Dion Pascascio, Drew Potter, Joshua Teeters, Zachary Teeters, Dakota Snyder, Shelby Pierce, Patrick Rutherford, Miles Brown, James Goss, Alec Shandy, Genevieve Brown, Alyssa Rucker, Kellie Goss, Jane Heinen, Haleigh Linden, Patrick McKechnie, Cammie Mitchener, Tyler Ogden, Alec Otting, Desiree Ridder, Hayden Robinson, Timothy Sanders, Victoria Smith, Joshua Stillian, Gage Zumbrunn, Joshua Barnes, Hope Brown, Haley Hanna, Jacob Price, Taylor Tribble and Austin Welling.