Neighbors: Richard Drennon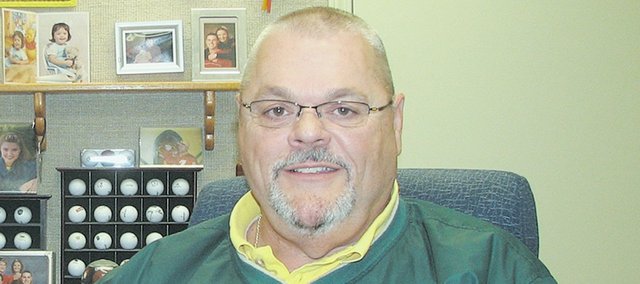 Richard Drennon shares a little bit about himself in this week's Neighbors column.
Occupation: Director of buildings and grounds at Basehor-Linwood USD 458 for 18 years.
Place of Birth: Kansas City, Kan.
Family: Married to Debbie for 37 years; two children, Mike Drennon and Heather Dixon; five grandchildren
Q: When did you move to the Basehor area, and what brought you here?
A: I moved to Basehor in November 2008. Both of my children graduated from Basehor-Linwood High School, and I have been involved with the people of Basehor for a long time, so Debbie and I wanted to be part of the city.
Q: What's the biggest risk you've ever taken?
A: Turning down a great-paying job 18 years ago so I could stay home with my family.
Q: What's the best piece of advice you've ever been given?
A: To never give up on things you want, and if you get knocked down, get back up and try again.
Q: What three things would you want people to know about you?
A: I've been married to my best friend for 37 years; family is always No. 1; and I'm a major Chiefs fan.
Q: What did you want to be when you grew up?
A: I wanted to be a policeman.
Q: What's your ideal vacation spot?
A: Hawaii
Favorites:
Song: "Joy to the World," as recorded by Three Dog Night
Color: Red
Food: Seafood