Organizers work to re-establish farmer's market at Grinter Place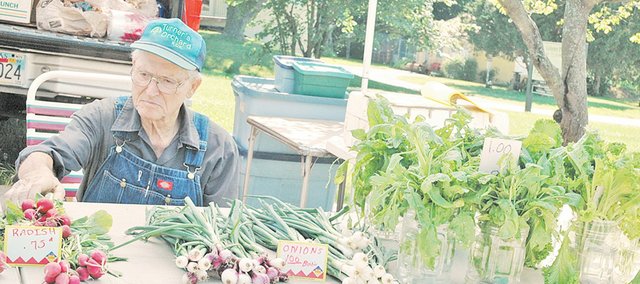 About 20 years ago, the only farmer's market in the immediate area was a thriving, bustling market on the grounds of the Grinter Place Historic Site in Kansas City, Kan., Phil Noah said.
Eventually, that market died out.
But now the Grinter Place Friends, a nonprofit group devoted to the support and preservation of the oldest home in Wyandotte County, is bringing the tradition back. The reason, Noah said, is because the group wants to bring back to the area the charm of an old-fashioned market where every item is homegrown and handmade.

"The old fashioned market as we look at it is … you make it, you bake it or you grow it," said Noah, who is the market's organizer. "In other words, no resale items. It's not for retail vendors or manufactured items, it's all homegrown or homemade items."
Having only been open for two weekends, the new farmer's market is dealing with a few "growing pains," Noah said. Thus far, only six vendors have signed up to participate, with only a couple out of those six able to set up their booths the past two weekends — Noah says the other four are slated to begin coming more consistently by the end of this month.
So the market is a small one right now, but vendor Marilee Drennon, who owns a farm and greenhouse in Tonganoxie, said she's been pleased with the turnout. Saturday, she had plants, herbs, and homemade jams and cinnamon rolls set up in a small booth, and she said there had been quite a few customers that morning. She plans to bring even more items as she gets more into the swing of weekend marketing.

"It's kind of getting into the groove of doing this," Drennon said, noting she heard about the market from a short article about it in the Tonganoxie Mirror.
The location of the market — in a fairly large city and within short driving distance of Bonner Springs and Edwardsville — is perfect, Drennon added.
"I think this location is tremendous, I think this is really an excellent location," she said. "It's kind of giving me a place close to where I live but, you know, kind of in a city to promote my products."
Customer feedback has been positive, as well. Fred Wilson, who lives just across the street, popped in last Saturday to pick up some radishes and onions from vendor Donald Turner, who owns Turner's Orchard in Kansas City, Kan. Besides Drennon, Turner is the only other vendor to have set up shop during the market's debut.
Wilson said there was definitely a need for such an event in the area.
"Just to help the local growers out, get a little more community camaraderie built up I think … more community spirit going," he said of why.
Though the market may be small now, Noah said there's no reason to think it won't grow into the type of large market that drew community members and local farmers and bakers together as it did years ago. He cites the Lawrence Farmer's Market, now one of the largest in the area, as being the proof in the pudding.
"They started out with four vendors," Noah said. "I think that's one thing that our community needs to realize, it's not so much how many vendors but what our vendors have to offer."
Noah said each week prior to the market, organizers will post online some of the offerings attendees can expect to see that weekend. This week's offerings will include lots of produce like radishes, onions and spinach, as well as homemade muffins, strawberry and rhubarb jam, and handcrafted wood items.
For those interested in participating as a vendor at the market, Noah said there was still plenty of room. Members of Grinter Place Friends plan to grow the market into an annual tradition again, and Noah said he hoped local farmers and bakers would show an interest in growing along with them.

"We're still encouraging people to come to us as a vendor and we're trying … we're doing a lot of promoting … we're doing all we can to help the vendors be successful," he said.
The farmer's market will be from 8 a.m. to 1 p.m. Saturdays through Oct. 22 at the Grinter Place Friends Barn, 1400 S. 78th St., Kansas City, Kan. For more information about the market, becoming a vendor or to see the list of weekly offerings at the market, go to gpffarmersmarket.com. Questions can also be referred to Noah at (913) 721-9735.