Live from
LSP

: Sporting

KC

vs. San Jose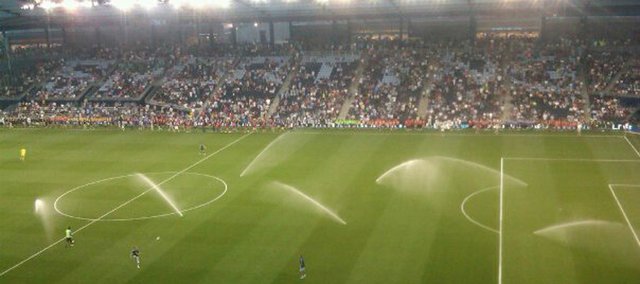 Kansas City, Kan. — Welcome to LIVESTRONG Sporting Park for Sporting Kansas City's match against the San Jose Earthquakes.
It's the third game in the new stadium and second for Sporting (the United States Men's National Team played here Tuesday). The first two contests featured standing-room-only crowds, so a storyline for the new stadium will be whether the sellout streak will continue.
As for the game itself, the biggest storyline is whether Sporting can earn its first home victory. It battled to a 0-0 tie against the Chicago Fire last week.
Sporting is in desperate need of a victory for multiple reasons. One, it would help invigorate the home fans. Two, Kansas City is in ninth place in the Eastern Conference.
Sporting has a six-game unbeaten streak going, including a 4-1 victory Sunday at FC Dallas.
STARTING LINEUPS
Sporting: Jimmy Nielsen, GK; Chance Myers, DEF; Aurelien Collin, DEF; Matt Besler, DEF; Seth Sinovic, DEF; Davy Arnaud, MID; Birahim Diop, MID; Luke Sassano, MID; Graham Zusi, MID; Omar Bravo, MID; C.J. Sapong, FWD.
San Jose: Jon Busch, GK; Bobby Burling, DEF; Bobby Convey, DEF; Jason Hernandez, DEF; Steven Beitashour, DEF; Brad Ring, MID; Sam Cronin, MID; Ramiro Corrales, MID; Anthony Ampaipitakwong, MID; Khari Stephenson, FWD; Steven Lenhart.
RECORDS
San Jose (5-4-4), 19 points
Kansas City (2-6-4), 10 points
FIVE MINUTES IN
San Jose has had the bulk of possession early, but Kansas City's defense has been stout. Seth Sinovic has thwarted a few early attacks, and Aurelien Collin and Matt Besler helped stop a few others.
15TH MINUTE
Davy Arnaud slipped a beautiful through ball to C.J. Sapong in stride for a one-on-one with the keeper, but he was whistled offsides in a questionable call.
18TH MINUTE
Arnaud nearly missed from 10 yards out after a throw-in was passed to him in front of the goal. Sporting has picked up the intensity and after a slow start has had the upper hand for the past 13 minutes.
21ST MINUTE
Khari Stephenson hammered a free kick from 30 yards out that drilled Jimmy Nielsen in the knees for a save. It was a rare opportunity for San Jose after its strong start.
23RD MINUTE — BLOWN CHANCE
Matt Besler's long clearance sailed to the San Jose defensive end, and Earthquakes defender Bobby Burling misplayed a header. The ball deflected behind him and right to a charging Graham Zusi. The Kansas City forward had a one-on-one with San Jose keeper Jon Busch, but Zusi rushed his shot and sent the ball sailing wide to the right. It's the best look either side has had thus far.
31ST MINUTE — GOOOOOOOOOAAAAAALLLLLL
A not quite capacity crowd is on its feet at LIVESTRONG Sporting Park. Kansas City has the lead.
Graham Zusi's free kick from 35 yards out on the right side sailed into the box, and a charging C.J. Sapong stuck out his left foot at the 6-yard box and deflected the ball into the net.
Sporting Kansas City 1, San Jose 0.
35TH MINUTE
Sporting nearly doubled its lead thanks to another Graham Zusi free kick. This time from the left side, Zusi's kick sailed to the far post before being caught by the San Jose keeper.
41ST MINUTE
Zusi continues to be dangerous with his free kicks. This time he sent one down the left side to Aurelien Collin, but his bicycle kick attempt sailed in the wrong direction.
42ND MINUTE
A long cross from Chance Myers found Arnaud for a header that sailed wide left.
San Jose's Ramiro Carrales just received a yellow card for a reckless tackle on Zusi just inside midfield.
STOPPAGE TIME
The fourth official has indicated that there will be at least one minute of stoppage time.
HALFTIME
After a slow start to the first half, Sporting Kansas City was in control for the final 40 minutes of the half and leads 1-0 at intermission.
C.J. Sapong gave KC its lead on a goal in the 31st minute off of an assist from Graham Zusi.
Sporting holds a 5-4 shots advantage, and each side has put two on goal.
San Jose holds a 7-5 fouls advantage and a 2-0 advantage on corner kicks.
Sporting has been called offsides four times.
49TH MINUTE — ANOTHER SCARE
Sporting nearly opened the second half with a bang, courtesy of a San Jose blunder.
A steal by Zusi in San Jose's defensive third set up a dangerous situation. Zusi struck a cut-back pass to Luke Sassano near the front right corner of the box. Sassano unleashed a shot that deflected off of San Jose defender Steven Beitashour before keeper Jon Busch collected it in front of the goal line.
52ND MINUTE
A yellow card on Collin just outside the box gave San Jose a free kick. Khari Stephenson's ensuing shot in the 53rd minute went wide to the right.
The yellow card is Collin's fifth of the season. He must serve a mandatory one-game suspension next week at Philadelphia.
54TH MINUTE
Luke Sassano has received a yellow card.
54TH MINUTE
San Jose's Simon Dawkins juked past Collin on the end line and fired a shot from close range that went just wide left. It was San Jose's best chance of the half.
57TH MINUTE
Sapong made an aggressive attack from the left side, changing speeds to drive past a San Jose defender before firing a low cross into traffic that was deflected by an Earthquakes defender.
Kansas City continues to string together nice combinations. It's an encouraging sign from a team that struggled to score early in the year.
59TH MINUTE
Ramio Corrales juked past Chance Myers on the left endline and blasted a low shot that Jimmy Nielsen dove at and punched wide.
67TH MINUTE
A corner kick by Zusi found Sapong for a diving header, but it sailed just off target.
68TH MINUTE
Kei Kamara sent a beautiful cross from the right side to a charging Sapong down the middle of the box, but Sapong missed on the connection by a quarter step.
80TH MINUTE
Sporting Kansas City continues to lead 1-0 and has dominated possession for most of the night. Still, with just a one-goal lead the game is far from over.
81ST MINUTE — OFFSIDES
Sporting made its most beautiful combination of the night, but it resulted in an offsides penalty. Kamara started a breakaway and worked a give-and-go with Sapong. Kamara stepped offsides on the return pass from Sapong, however, so despite Kamara finding Omar Bravo at the back post for a sliding score, the goal didn't count.
SOLD-OUT CROWD
A sold-out crowd of 18,467 is on hand as Sporting Kansas City tries to secure its first victory in LIVESTRONG Sporting Park.
87TH MINUTE
After receiving a throw-in, Kamara found Chance Myers for a shot from 20 yards out on the left wing, but it went just high of the crossbar.
STOPPAGE TIME
The fourth official has indicated there will be at least three minutes of stoppage time.
STOPPAGE TIME
Scott Sealy had a breakaway for San Jose, but great hustle by Aurelien Collin allowed him to cut off Sealy and prevent a shot with about a minute of stoppage time left.
FINAL SCORE
Sporting Kansas City 1, San Jose 0