Sapong's goal enough as Sporting
KC

shuts out San Jose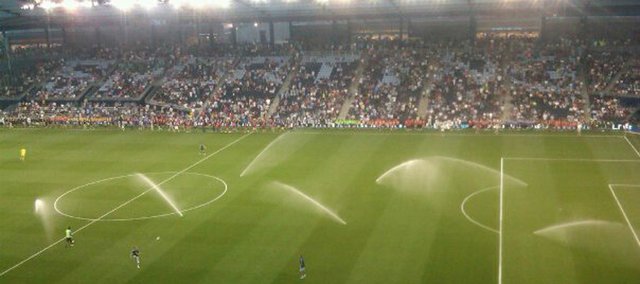 Kansas City, Kan. — Last week Sporting Kansas City broke in its new stadium.
This week, it earned its first victory in the new digs.
Sporting controlled possession for most of the night and threatened numerous times offensively on its way to a 1-0 victory against the San Jose Earthquakes in front of a sold-out crowd of 18,467 Friday at LIVESTRONG Sporting Park.
"It's huge; it's huge," Sporting KC manager Peter Vermes said. "I thought we were in a good position our last home game to get that, but unfortunately it didn't happen. But it was good to be able to still grind out a point when we were a man down, and then going into Dallas (on Sunday) scoring the goals that we did and then being able to hold onto the game being a man down again is showing a lot about the character of our team. And I also think fitness-wise we are pretty strong."
San Jose entered Friday's game with a six-match unbeaten streak. The Earthquakes were the aggressors early as they made a few dangerous runs at the goal during the first five minutes, but Kansas City quickly ramped up its intensity and dominated most of the final 40 minutes of the first half.
An early offsides penalty on C.J. Sapong off of a beautiful through ball from Davy Arnaud cost Kansas City an early scoring opportunity, but it set the tone for Sporting's play the rest of the night.
In the 23rd minute, a long ball by Matt Besler was misplayed by San Jose defender Bobby Burling. His header deflected behind him to a charging Graham Zusi, but the KC forward rushed his shot and sent it wide right.
Kansas City broke through in the 31st minute when Zusi's free kick from 35 yards out met Sapong's left foot at the 6-yard box for a redirection into the net.
"It's basically the story of my life," Sapong said of the hard-earned goal. "Refs don't really see too much that goes on in the trenches. From the second it was hit, I knew I could get my head to it, but (the defender) was holding me back so I just stuck my foot out … and it went in."
Zusi had two more dangerous free kicks in the half, but Sporting was unable to extend its lead.
Meanwhile, San Jose's few first-half chances were thwarted by stout defense from Seth Sinovic outside and Aurelien Collin and Besler in the middle.
Sporting nearly opened the second half with a bang thanks to another defensive blunder by San Jose. A steal by Zusi in San Jose's defensive third set up a scoring opportunity. His cut-back pass to Luke Sassano near the front right corner of the box gave Sassano a clean shot at the goal. His blast ricocheted off of Earthquakes defender Steven Beitashour before keeper Jon Busch pounced on it in front of the goal line.
Sporting continued to show progress with its pass connections in the second half. Sapong constantly was involved either as a distributor or receiver despite Kansas City's inability to add to its lead.
Among the opportunities were a solo attack by Sappong from the left side when he changed speeds to create space before his cross was deflected. Later, Zusi lofted a corner kick that found Sapong for a diving header that missed the target. Then, in the 68th minute, Kei Kamara created space and sent a beautiful cross from the right side to a charging Sapong, but he was a half-step short.
Sporting's most artistic combination of the night came in the 81st minute, but it resulted in an offsides penalty. Kamara started a breakaway and worked a give-and-go with Sapong. Kamara stepped offsides on the return pass from Sapong, however, so despite Kamara finding Omar Bravo at the back post for a sliding score, the goal didn't count.
Kansas City withstood a late flurry of chances by San Jose and secured the victory.
Goalkeeper Jimmy Nielsen made four saves and helped Kansas City secure its third shutout in its last four matches.
Sporting KC (3-6-4) is now unbeaten in its last five matches, including two straight victories, and Sapong said the team is growing more confident by the game.
"The confidence has always been there," he said. "We've always known, this is just reassurance. It's different when you have fans calling your name, and when you know you can put results on the board it makes everything so much easier."
Sporting next plays at 7:30 p.m. Wednesday at Philadelphia.
NOTES
— Sporting KC (3-6-4) is in ninth position in the Eastern Conference standings
— Sporting KC is 1-0-1 all-time at LIVESTRONG Sporting Park.
— Sapong's goal was the first MLS goal recorded in the stadium and second total goal. Jozy Altidore of the United States Men's National Team scored the first goal ever in the stadium on Tuesday during a Gold Cup match against Guadeloupe.
— Sporting KC is 2-0-1 when leading at halftime this year and 3-1-1 when scoring first.
— The shutout was goalkeeper Jimmy Nielsen's first of the season.
— Team captain Davy Arnaud broke a tie with Preki for third on the club's all-time games started list with 219 matches.
— Defender Aurelien Collin received his fifth yellow card of the season. He will serve a mandatory one-game suspension Wednesday.