Bobcats' Seaton to wrestle at Fort Hays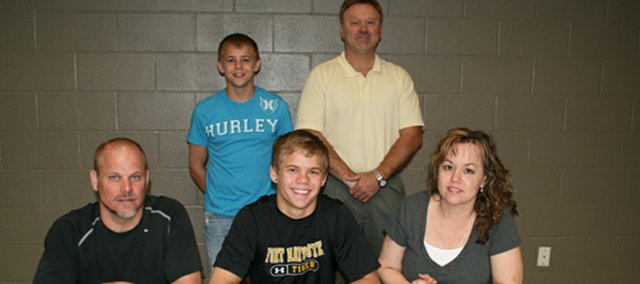 After an extensive search that took a few twists and turns, Symon Seaton is headed to Fort Hays State University.
Seaton, a Basehor-Linwood High School senior, recently signed a letter of intent with FHSU.
His list was whittled down to Fort Hays and South Dakota State, but he picked FHSU because of the coaches at the school and the interest they showed in him.
Initially, he was leaning toward South Dakota State, but they didn't offer as big of a scholarship. Late in the process, Seaton called Fort Hays coach Chas Thompson, whom he had gotten to know from seeing him at national tournaments and other wrestling meets.
Thompson offered a scholarship and suggested that Seaton come down for a visit. After the visit, Seaton's mind was made up.
"I liked the campus; it was pretty nice," he said. "The wrestling room is pretty nice. I liked that the coaches actually wanted me there. You could tell he had researched with me and been to national events. I thought he was pretty straightforward with everything."
Fort Hays is an ascending program. Thompson is in his fourth year at the school and already is sixth in dual wins in program history.
Seaton will be a welcome addition to the program, planning to wrestle in the 133- or 141-pound weight class.
"Oh yeah, I would just say I am excited to compete at a Division II level of wrestling," he said. "I think I can get a lot better in that room. Those kids at Fort Hays are all good."
Training with them each day should only prepare him better for national competitions.
"I should be able to come out on top," he said. "I want to be a national champ. That is what I want to train for."
There is another benefit to wrestling at FHSU. Seaton will be able to wrestle with his cousin, Caleb Seaton, who wrestled at Bonner Springs High School and then signed with Fort Hays.
The two chose FHSU separately. They took separate visits and each came to their own conclusion that wrestling for the Tigers was right for them. Now they will be teammates and roommates.
The two wrestlers have made headlines and done well to earn scholarships in a sport where there are fewer and fewer scholarships available and schools drop programs.
Wrestling scholarships are a little tougher to earn because numerous programs have been cut during the last 30 years.
In fact, that played a role in the BLHS standout's decision-making process.
Earlier this year, the University of Nebraska-Omaha won the NCAA Division II national title. Seaton, who was looking at going to school there, called the coach that night to congratulate him. The next day, the program was dropped.
"That was awful for me," he said. "It was one of my number one picks. They were three-time national champions and they dropped the program after winning the national title."
Such is life for a high school wrestler.
In this environment, every season counts. Scholarship dollars are at a premium.
Seaton won a Class 4A state championship as a junior, but he wrestled injured most of his senior season with a broken hand. He managed to come back in time for the postseason but was eliminated before the medal rounds.
He said that not winning state this season cost him an opportunity to wrestle at the Division I level. South Dakota State made him an offer, but it gave most of its scholarship money to a wrestler who had won a state championship in Minnesota.
"Yeah, I had a week to really decide between Fort Hays State University and South Dakota State," he said. "It was a hard decision. I think I made a really good decision."
Luckily for Seaton, he has found a place to call home. His father, Ed Seaton, who coached him throughout his career and in high school, is glad the decision is made.
"I think my dad is real happy it is decided and I want to go somewhere," he said. "(It's) somewhere I could go and he could watch me. They can come to some of the meets and watch me wrestle at the college level. I just want to thank my friends and family for always being there when I needed them the most."