Bonner Blast making its return
Fireworks show bak after fundraising effort by Downtown Bonner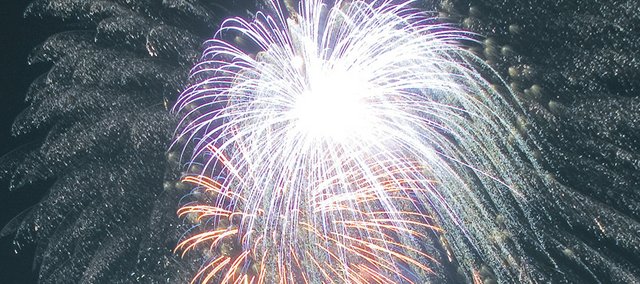 The patriotic spirit is alive and well in Bonner Springs.
Though last year's Bonner Blast fireworks show had to be canceled due to lack of funding, the show will return this year, thanks to the hard work of some volunteers and generous giving of local businesses and organizations.
The Bonner Blast is set to follow the June 30 Bonner Springs City Band concert at 8:30 p.m. in Kelly Murphy Park, with July 7 as a backup date in the case of inclement weather.
It took Downtown Bonner Inc. members Bob Firth, DeeDee Harrington Summers and Vicki Kobialka just two weeks to get the funding together for the show.
Firth gives much of the credit to his female counterparts.
"Thanks to some really diligent legwork by Vicki and DeeDee, a substantial amount of money was raised in a short time," he said. "I think everybody was a little skeptical if we could raise the amount of money necessary to pull it off in the time allotted, but … we've had a lot of good sponsors, it's really impressive to see how it's come together."
Last year, in what would have been the show's 10th year, too many large donors were unable to give their usual donations to the show.
Kobialka said after the show was canceled last year, she had a lot of people at her business, Kobi's Bar and Grill, asking if they would bring it back. Summers and Firth heard similar comments.
"It's a plus to our town, and it's a nice crescendo to our city band concert," Summers said. "… It brings a lot of people to our small town; a lot of local people enjoy it, as well as the out-of-towners."
After feeling its loss last year, local businesses and organizations were more eager to contribute this year, she said. The DBI teamed up with the city's Convention and Tourism Bureau, as well as other larger donors like Union Bank. All of the sponsors will be announced prior to the fireworks show.
While many area cities have had to cancel their fireworks shows due to tight budgets, Summers said putting on a show wasn't necessarily getting any cheaper.
"The cost of putting on a show hasn't gone down, but we pulled together enough money to have a 15- to 20-minute show," she said. " … We're just really thrilled it came together as well as it did."
The DBI volunteers are still accepting donations from those who would like to support the show. They may be left with any of the three at their businesses, Harrington Floral, Inter-State Federal Savings and Loan or Kobi's.