Chilean
BLHS

foreign-exchange student fits right in with hosts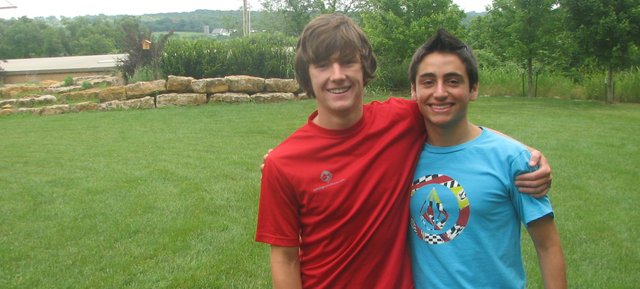 The first thing Hugo Andres Navarrete Carvacho noticed was the cold.
It was January, after all, when he arrived at Kansas City International Airport. Temperatures in his coastal hometown in Chile, Viña del Mar, hover around 60 degrees year-round, so the bite of a Midwestern winter was a new sensation.
"It really was," Hugo paused, "cold," he said.
Hugo, 16, was the lone foreign-exchange student at Basehor-Linwood High School this school year, enrolling as a sophomore for the spring semester.
New sights and experiences flooded over him during his first days in the United States, he said. After living in an urban city on the coast, he was struck by all the trees and vegetation surrounding the residence of his host family, the Klovers, who live in rural Leavenworth County near Bonner Springs. And he could not believe his eyes when, on his first morning there, he sat down for breakfast and found in front of him a plate full of bacon, eggs and hash browns.
"This would be lunch for me" back home, Hugo said. Before he went off to school in the morning in Viña del Mar, he said, he would usually have a glass of juice and maybe some toast.
But Zach Klover, Hugo's host brother and a junior at BLHS, said Hugo had little trouble adjusting to life here from the start.
Zach remembered taking Hugo to a BLHS basketball game soon after he arrived. Students there peppered him with questions, Zach said, some of which could have been irritating: "Do you eat chili in Chile?" "Do you have forks in Chile?"
But Hugo brushed the questions off with a laugh, Zach said. In response to the question about forks, he replied, "What's a fork? Is that what you use for your armpit?" Zach recalled.
That sense of humor helped Hugo jump right into Zach's group of friends, he said.
"He has a lot in common with all of my friends," Zach said, "and they love him to death, so he's fit right in."
The Klovers volunteered to house a foreign-exchange student at Zach's urging, Sherrie Klover, Zach's mother and Hugo's host mother, said. Zach, the family's youngest child, said he hoped to re-create the feeling of having a sibling in the house. His older brother and sister were both off at college by the time he began high school.
The Klovers selected Hugo through a foreign-exchange service, and Hugo found out he'd be heading to Kansas about two weeks before he left. The service allowed them to read about the interests and preferences of different students looking for host families.
"Hugo plays guitar. So does Zach," Sherrie said. "They both love soccer, so they had pretty much the same interests."
Hugo said he had imagined he would be entering an entirely different world when he came to the United States, but the Klovers made him feel like he had another family in addition to his family back home, where he has a younger brother and an older sister and stepbrother.
"It wasn't too hard to get used to the family," Hugo said. "They made me feel like it was just my house."
Sherrie said Hugo also had little trouble fitting in academically. Just a few days after starting class, he aced a U.S. history test about World War I. Hugo said he remembered details about U.S. involvement in the war from a world history course he took in eighth grade.
By the end of the semester, Hugo said he favored BLHS to the private school he attends in Viña del Mar. His favorite class this semester, he said, was drama, something he would not get to do at school back home.
"You play games, then you rehearse," Hugo said of drama class. "You do a lot of stuff, and you never get bored."
It stood in contrast to a typical class back home, he said, because his school focuses solely on core academic courses without any electives. With the opportunity to choose his class schedule for the first time in his life, Hugo also enrolled in a foods course, jazz band and strength and conditioning.
He also took a Spanish course, he said, laughing at the thought of taking a class to learn his native language. But he said he gave the students presentations about life in Chile and served as a resource.
"I just helped the teacher," he said.
Another part of student life at BLHS he enjoyed was that he got out of school at 2:45 p.m. At home, he said, school days last from about 7:40 a.m. to 5 p.m.
"In Chile, pretty much, you just go home after school, because you're tired," Hugo said. "You get out of school at 5, get home at 6, sometimes play soccer and get home at 7."
But here, he was able to leave school with much of the afternoon still ahead of him, leaving him time to play soccer or videogames, drive to the shops at the Legends or go fishing or swimming with Zach and his friends.
Some of his favorite experiences, he said, were going snowboarding for the first time when the Klovers traveled to Colorado, attending the first Sporting Kansas City home match at Livestrong Sporting Park earlier this month and spending a day at Worlds of Fun.
"I have been to parks like that," Hugo said of Worlds of Fun, "but it was really big."
And then there was the food.
"The food here is excellent," Hugo said.
He said he couldn't pick a favorite dish because he liked so many, but Sherrie's orange chicken recipe was perhaps the best.
Sherrie said Hugo was a bit taken aback when he first arrived by how much larger the meals here tend to be, but he went along gladly.
"He doesn't complain about anything," Sherrie said. "He eats everything."
Hugo will fly back home Monday, but he has enjoyed his time in the United States enough, he said, that he's determined to come back the first chance he gets. He hopes to attend a U.S. college, he said.
"It's not that I don't like Chile," Hugo said, "but I feel like I have to come back."
The Klovers, meanwhile, say they plan to keep in touch via Facebook and other means. Zach said he'd definitely miss having Hugo around as his "brother."
"He's always down to do pretty much anything," Zach said.