A tour of Kansas on two wheels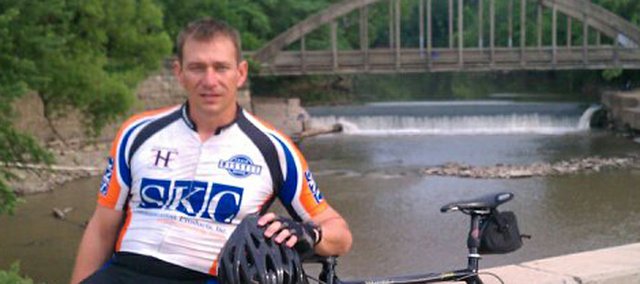 Bill Downing has a love of the open road.
For him, few stretches of road are more beautiful than the span from Garnett to La Cygne and on to the Missouri border.
"If someone's wanting to take a country drive on a motorcycle, that'd be a beautiful trip," Downing says.
For Downing, however, the choice of transportation down that stretch of Highway 152 — as well as numerous other highways and backcountry roads in Kansas — is a different two-wheeled cycle.
Downing, a Bonner Springs native and BSHS teacher and coach, is an avid cyclist. From June 4-11 he made his third straight journey from Kansas' border with Colorado to the border with Missouri in the annual Biking Across Kansas ride.
The trip covered 474 miles, but Downing said the memories will last a lifetime.
Love of the ride
When Downing graduated from BSHS in the spring of 1988, he didn't head for Cancun or a cruise ship to party. Instead, he headed for the coast.
The Bonner Springs High School Outstanding Male Athlete award-winner put his physical abilities to the test in a cross-country bike ride across the United States. He raised $5,000 for the American Lung Association while riding 3,425 miles from Seattle, Wash., to Atlantic City, N.J.
The ride was grueling, but Downing found inspiration in the charm of small towns across the country.
In a dispatch from the road that was published in the July 7, 1988, edition of The Chieftain, Downing wrote about riding into Makoti, N.D., a town of just 160 people. The cyclists were greeted by six red-nosed, horn-tooting clowns to make them feel welcome.
He also mentioned a stop in East Hope, Idaho. He and other riders inquired about renting a boat for a ride on a lake, but the owner refused their money and took them out on the water for free.
That summer of cycling made a lasting impression on Downing, and the love of the open road remains in his blood to this day.
Biking across Kansas
In the years since his cross-country journey, Downing has continued to ride his bike. In fact, he has found a tough — but much shorter — event that is a regular part of his summer plans.
Downing recently concluded his third Biking Across Kansas ride. Each year a different course is selected, either across the northern, central or southern portion of the state. This year was the central course.
It began in Tribune, a town near the Kansas/Colorado border, and concluded eight days later with a ride through Garnett to the Kansas/Missouri border. Various lodging options are available, from staying in tents, to high school gym floors, to motels. Cost for the ride ranges from $130 to $165.
About 900 riders participated this year.
The event is not a race, rather it encourages riders to go at their own pace, enjoy the ride and simply cover the distance. It is billed as a "social rally for cyclists." The social element is how Downing met his riding partner, Paul Dowding.
"My first year I was on it by myself, but I met a lot of different people," Downing said. "I was coming across a group of riders, and Paul happened to be with them. They attached with me, and we rode all week together — a group of four of us.
"At the end of the week you have a sign-in, sign-out sheet, and one of the guys says, 'Hey Bill, what's your last name? I'll go sign you out." It turns out Paul's last name was Dowding and we were listed right next to each other. We got a pretty good laugh about that, and we ended up becoming good friends."
Challenges and memories
Unlike previous years, Downing said he didn't train for this year's ride. He noticed the effects for a bit.
"I was hurting the first five days," he admitted. "The sixth day I felt really good all of a sudden, and the last three days were nice strong rides."
In addition to the early soreness, back-to-back hot days took their toll on the riders. The toughest was day five, the longest day of the trip, as riders went 74 miles from Hoisington to McPherson.
"The stretch from Marquette to McPherson is flat as a pancake, but we had 40-mile-per-hour headwinds and 103 temperatures that day," Downing said. "We were filling up with water every two to three miles."
While the ride across Kansas isn't as demanding as his cross-country ride was as an 18-year-old, the 41-year-old Downing has discovered a commonality between the rides that he savors: the treasures found in small towns.
Whether it's a museum, tasty barbecue joint or history lesson, Downing loves the experiences along the way.
On day one, he learned that Tribune was named for former Horace Greeley, an advocate for Kansas becoming a free state and the former editor of the New York Tribune. The nearby towns of Horace and Greeley also are named for him.
Scott City he learned was originally founded under a different name, as well as that 400,000 beef cattle are raised and slaughtered there. Plus, as he noted, The Majestic, a restaurant in town, has "one of the best ribeyes ever."
Downing discovered that Ness City is the only city in Kansas named after a corporal. He also discovered that Bonner Springs friend Don McCoy was in town, so Downing ditched the tent for the night and found a spare bedroom to crash in instead.
On day four, the riders rolled into Hoisington, a place Downing learned is a railroad town that is named for Andrew J. Hoisington, a businessman, teacher, newspaperman and postmaster.
From there, it was on to McPherson. Along the way, Downing made a stop in Marquette — a small town southwest of Salina. It was one of his favorite stops.
"I heard a story abut how the Kansas Motorcycle Museum started in Marquette," he said. "A lady and her husband started it in his honor. He was a motorcycle dirt racer who'd won a lot of championships. They were high school sweethearts, and then he was based in Texas in the military. He called her up and said, 'Hey, you still got that $200? Come on down to Texas and let's get married.'"
It turned out the man needed the $200 to repair his motorcycle, but the couple ended up getting hitched and had a honeymoon photo taken with their RV and the motorcycle. The photo hangs in the museum.
"That's the thing about a trip like this," Downing said. "That was a hard day. We could've plowed right on through Marquette, but we would've missed that experience."
Downing talked about the great hospitality in Cottonwood Falls. Tasty food was everywhere, and a downtown block party was set up for the riders. His girlfriend Tiffany met him the next day in Burlington, and then it was on to Garnett where a Downing said a great set-up by the city had to be shut down early due to an approaching storm.
Finally, the final day arrived. The final 40 miles took Downing and his fellow riders through La Cygne and on to the Missouri border.
"That last day of riding I was feeling strong and feeling good," he said. "It was beautiful rolling hills. There were some steeper climbs, but if you go up a climb then you get to come down, too."
The feeling at the end was bittersweet, he admitted.
"You're kind of glad it's done, but you're disappointed because you know it's going to be a little while until you get to do another one and you have to go back to work."
Downing encourages others to try Biking Across Kansas if they're interested. He'll be back at it again in 2012, and he hopes to be better prepared for it.
"I'm going to do this again next year," he said. "Once I get my house done, I plan on doing some (bike) racing again. It's been a little while since I've done some racing."