Karnazes hopes to inspire people to run with Fun Run, Endurance Challenge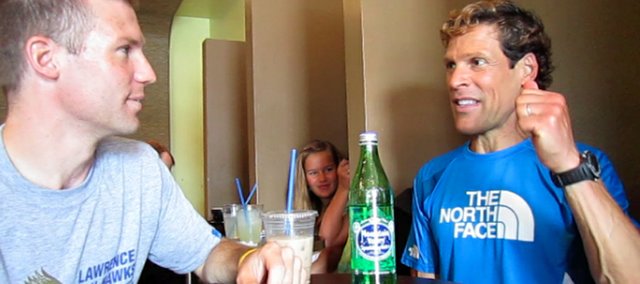 Kansas City, Mo. — Dean Karnazes didn't set out to inspire people. It just sort of happened.
Of course, some of that comes with the territory. When you tackle extreme challenges such as running a marathon in all 50 states in 50 days, racing across the world's four most daunting deserts, or running 135 miles in 120-degree temperatures through Death Valley, people are going to take notice.
Ever since his first book, "Ultramarathon Man: Confessions of an All-Night Runner" earned a spot on the New York Times bestseller list in 2005, Karnazes has become a household name in the distance-running community. He has run on all seven continents and won some of the world's most grueling endurance events.
Now he is embracing the celebrity status that his running fame has brought upon him, and he's made it his mission to inspire people to get active.
He recently completed a 75-day, 3,000-plus-mile run across the United States that benefited Action for Healthy Kids.
Now, Karnazes has his sights set on Kansas City.
Karnazes will lead a Fun Run at 10 a.m. today on the Country Club Plaza in Kansas City, Mo. He sat down Friday to talk about it.
"The people is what I'm looking forward to," said Karnazes, who will talk to his fellow runners afterward and then sign copies of his new book, "Run! 26.2 Stories of Blisters and Bliss." "The people here are great. The city has grown up a lot since my last trip through Kansas City, but (I'm looking forward to) the people and just living vicariously through their eyes.
"There will be people who will be challenged to run two miles, while my other group of friends are running 100 miles as fast as they can through the Sierra Nevada, so just to see that light in their eyes is … I live through their eyes. It's really refreshing."
Karnazes knows he'll see some experienced runners at the Fun Run, but he hopes it also will inspire others to try running for the first time — or return to the sport if they've taken an extended break.
His own story covers both ends of the spectrum. He remembers first running as a 6-year-old on the way home from kindergarten. After running his first marathon at 14, he stopped running until he was 30. That's when, on his 30th birthday, he decided to run again.
"You're never too young, too old, too fat, too skinny …" Karnazes said. "There are a lot of what I call 'newborn runners' like myself that used to run or just discovered running later in life. The addiction never goes away."
Karnazes wants to see people of all ages get active and stay active. He encourages families to make it a lifestyle where parents and kids run together.
Ultimately, his primary target is kids.
"Kids are our future," Karnazes said. "Kids are a little more malleable. You can teach a young dog new tricks, but sometimes it's the older ones. Kids, I find, naturally love to run. Some of them it's their first exposure to running, and one time — just doing it one time — one time flips the switch. I get letters from kids five years down the road like 'I'm running this marathon and this marathon.' It flips them right there.
"When I ran across the country, there were literally tens of thousands of kids running with me. It was probably the most glorious moment of my life. These kids were loving it."
Karnazes hopes the Fun Run will be the starting point for many new and returning runners.
He advises new runners to invest in a good pair of shoes at a specialty running store. It's important, he said, to have a knowledgeable salesperson fit you for shoes so they will be comfortable and make running more enjoyable.
In addition, he joked, the expense of new shoes should be extra motivation to put them to use.
Karnazes — a The North Face-sponsored athlete — will return to Kansas City in two months for The North Face Endurance Challenge Aug. 27-28. The race series offers both new and long-time runners races to train for. The Endurance Challenge will offer 5K, 10K, half marathon, marathon relay, marathon and 50K distances.
"That's kind of our concept with this run is never stop exploring," Karnazes said. "So if you run two miles (Saturday), maybe it's time to do a 5K which is 3.1 miles in August — or be bold and go for the 10K, 6.2 miles!"