Basehor Historical Museum exhibit shines spotlight on wheat harvest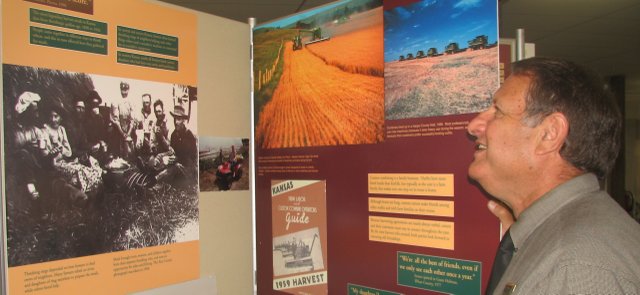 Kansas' staple crop, and the people who harvest it, are in the spotlight of the latest exhibit on display at the Basehor Historical Museum.
"Wheat People: Celebrating Kansas Harvest" provides a look at the history of Kansas wheat harvests, as well as a look at the modern-day lives of people in Kansas towns that still live and die by wheat farming.
Topics include the technological developments that have transformed wheat harvesting since it was done manually in the early 1800s, the struggles of wheat farmers to deal with the changing Kansas weather that poses a threat to their crops and the small towns where life stops as residents rally together when harvest time comes.
Ken Massingill, a museum volunteer, said the importance of wheat's history in Kansas was apparent in the crop's economic impact.
"From what I can remember, wheat has always been a big part of the economy of the state," Massingill said.
The exhibit was provided to the museum by the Kansas Historical Society, and it is sponsored by Reece and Nichols Premier Realty in Basehor.
It is on display through July 26 at the museum, 2812 N. 155th St., during its regular hours: 9 a.m.-noon Tuesdays, 1-4 p.m. Thursdays and 9 a.m.-2 p.m. Saturdays. Admission is free, though donations are accepted. For more details, call the museum at (913) 724-4022.