Fort Leavenworth family awaits August reunion with father deployed to Iraq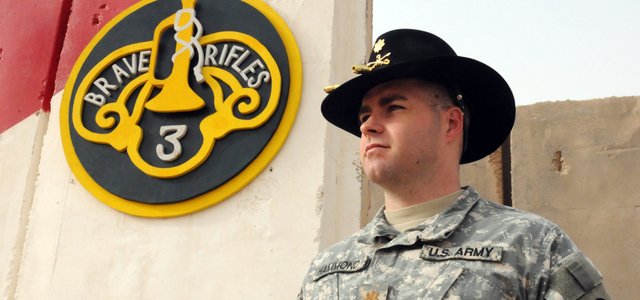 This Fourth of July, one Fort Leavenworth family will have its eyes on another date, a date that will bring the end of time-zone calculations, online video chats and traced outlines of growing children shipped overseas: the Fifth of August.
Their husband and father, Army Maj. Joseph Hammond, will return home from a nearly yearlong deployment to Iraq on that day. Except for a two-week leave in November, he has been there since August 2010.
In southern Iraq, he is helping U.S. forces communicate with Iraqi leaders and citizens in preparation for a planned withdrawal of troops by the end of this year.
But across the world at Fort Leavenworth, 7-year-old Cole Hammond has some other missions for his father to accomplish. Some Lego sets need building, and there's this one level on the new Star Wars video game that Cole can't quite get past, but he's pretty sure his dad can do it.
The Hammonds also have a 6-year-old daughter, Charlotte, but Cole may be the member of the family for whom Joseph's absence is the toughest, said Laura Hammond, Joseph's wife.
"There's just a special bond that a father and son have," Laura said, "and I really have seen my son missing that here. That'll be good to have him back and watch that blossom."
This is the third time the Hammond family has made this particular kind of sacrifice, spending months without their patriarch while he serves his country. Cole was born during Joseph's first deployment to Iraq, in 2003 and 2004, and Laura found herself raising a toddler and a particularly colicky infant during his second tour there, in 2005 and 2006.
This time around, the family has two kids who go to school every day and soccer practice twice a week each, and further complicating things is an eight-hour time difference that didn't exist during the first two deployments, when the family lived at a U.S. Army base in Germany. They've lived at Fort Leavenworth since 2007.
"It hasn't been a struggle, but it's been tiresome," Maj. Hammond said of his wife's workload while he's away. "And she's ready for me to come home."
Maj. Hammond spoke in a phone interview with The Mirror from Iraq's Babil province, home of the ancient city of Babylon.
Hammond is one of about 3,000 deployed members of the Army's 3rd Armored Cavalry Regiment providing security in Babil and four neighboring provinces in southern Iraq.
He chose to deploy with the regiment — which is known for wearing traditional Stetson hats and spurs and carrying sabers — partly because his father, also an Army officer, was once a part of it as well.
"I knew it would be exciting, it would be a lot of fun, and it would be just kind of a way to honor by dad," Joseph said.
Joseph was an "Army brat," he said, and he spent two different stretches of time at Fort Leavenworth while he was growing up, along with several other bases around the country. He graduated from Leavenworth High School.
Joseph joined the Army after graduating from Emporia State University, where he met Laura, his wife of almost 12 years.

As the regiment's information operations officer, Hammond sets up meetings between the regiment's commanders and Iraqi military and government leaders as the regiment prepares to hand security operations over to the Iraqis.
He also helps the regiment communicate with the residents of the area, which frequently involves countering propaganda spread by insurgent groups. He crafts radio messages, posters and flyers that counter rumors and misconceptions about the U.S. troops and let residents know when insurgent attacks cause innocent Iraqis to lose their lives.
"Every time they do something that causes civilian casualties and collateral damage, we make sure that they're not off the hook," Hammond said.
Many Iraqi residents fear or misunderstand the troops, he said, allowing for the spread of insurgent-sparked rumors that the United States is plotting a permanent occupation of Iraq. The regiment's messages aim to dispel those falsehoods and let residents know that U.S. troops will hand over the security reins to Iraqi forces by the end of the year.
"They don't see the human aspect," Hammond said. "They just kind of see us as robots roaming around. It helps them understand that we're here to help."
According to CNN, about 47,000 American troops remained in Iraq as of earlier this week. Every month brings further withdrawals of operations and troops, Hammond said. He'll be part of one of those withdrawals in a little more than a month.
Until he can finally see his wife and kids in person, he'll be in near-daily contact with them via the online phone service Skype. The voice and video chats made possible by Skype and other technological developments have enabled Hammond to stay in touch in a way he couldn't during his first two deployments.
Though the family can now do things like setting a laptop in his spot at the table and video-chatting during dinner, the eight-hour time difference has still has made it far from easy to stay in touch, Joseph and Laura said. During the school year, Joseph would stay up until 11:30 p.m. his time so he could talk to his kids when they got off the bus after school, but the antsy children sometimes had trouble sitting in place for too long.
"The last thing they want to do after sitting in class eight hours a day is sit in front of a computer screen and talk to Dad," Joseph said.
The attention-span factor is where Joseph and Cole's shared interest in Legos has come in handy. Free computer software from Lego allows them to collaborate on virtual structures and order sets that they can build together when he returns. That and other online games have served as a tool for convincing the kids to sit and talk with Dad, he said.
"You've got to bribe them a little bit," Joseph said.
Cole said he was looking forward to getting down to some real-life building with his dad when he returns.
"When he gets back, he can do a lot more," Cole said.
For Father's Day, Laura tried to give Joseph a feel for one aspect of parenthood he couldn't experience while across the world, she said. Joseph hadn't been able to see how much their children had grown since he'd seen them last, so Laura traced their silhouettes as they lay on sheets of paper and shipped them to their father.
Though the adjustment from one parent to two could be a rocky one for the family, Laura said, everyone is ready for Joseph to be home.
"The day can't come soon enough," Laura said.
Laura credits a group of supportive friends and her faith for helping her make it through Joseph's three deployments. Some days it's easy to see how her family's sacrifice has been worth it, she said, while other days it's tough. But her pride in her husband doesn't waver, she said.
"I just have to trust God," she said, "and know that our family is making the decisions that God would have us make."