Developer breaks ground on new Basehor retail building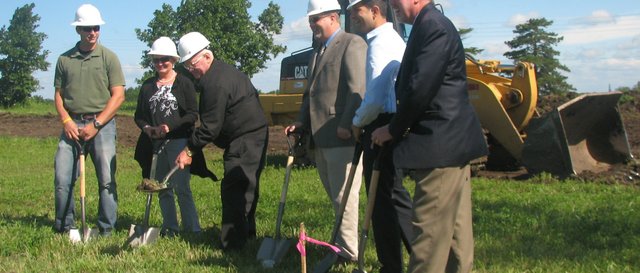 Construction is under way on a new retail property in Basehor, and its developer plans for its new shopping and eating destinations to be open by October.
What exactly those offerings will be cannot be announced yet, developer Dr. Bill Fleming said at a groundbreaking ceremony last week for Pinehurst Retail West. The development will be on Pinehurst Drive south of U.S. Highway 24-40, just west of the nearby retail center that contains Subway and other shops.
Tenants have informally agreed to fill about one-fifth of the planned building's 10,000 square feet, Fleming said. As a comparison, the retail center that includes Subway covers 10,500 square feet.
"I'm very optimistic about what the possibilities are here," Fleming said.
Though a rendering of the building at the ground-breaking ceremony showed eight storefronts of roughly equal size, Fleming said it could be broken up into shops of different sizes, depending on which tenants agree to move in. A drive-through will be built into one end, and Fleming said he hoped to attract a large restaurant or sports bar to fill some of the space.
"We're filling a need here, I hope," Fleming said.
Negotiations are in process to land tenants to fill the space, Fleming said, with the help of leasing agent Cindy Brock, president of Brock and Associates, based in Bonner Springs.
About 25 Basehor and Leavenworth County leaders and residents attended the Basehor Chamber of Commerce's ground-breaking ceremony for the development on the morning of Wednesday, June 22.
Aladdin Ashkar, president of the chamber, said at the ceremony that the construction of the new retail center was a welcome break from the tough economic climate that has slowed development in recent years.
"It's nice to hear some good news," Ashkar said.
If the development is able to attract a full stable of tenants by the time it opens in October, Fleming said, he would like to construct another similar development further west on Pinehurst Drive soon.
Fleming, a retired heart surgeon who lives in Omaha, Neb., said he had looked for property in the area to purchase and develop because his wife, Pam, had grown up near Bonner Springs.
The construction contractor for the project is KSI Construction, based in LaVista, Neb., near Omaha.