Smith set higher standard at
BSHS

, named Senior Athlete of the Year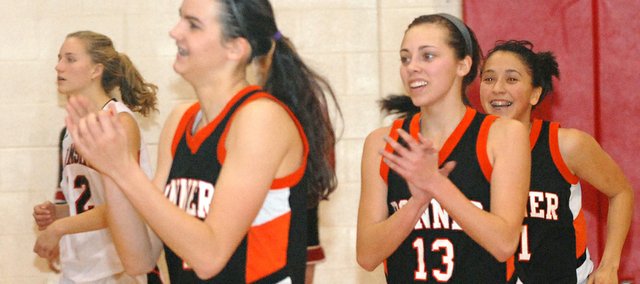 Erica Smith did a little bit of everything during her time at Bonner Springs High School.
She ran track as a freshman, played volleyball as a sophomore and junior, and she spent her junior year on the soccer team.
"I've been involved in pretty much everything here," Smith said. "I just feel like that's the way to be."
Still, one sport truly captured Smith's heart: basketball.
She wanted to be a Bonner Springs Brave from an early age, and she devoted all four years of her high school career to the varsity basketball program. During that time she helped transform the Braves from Kaw Valley League cellar dwellers to a title contender.
Her accomplishments on the court ultimately earned her a scholarship to play for Fort Scott Community College, and they helped her earn recognition as Bonner Springs High School's Senior Female Athlete of the Year.
Early days
Clay Oakes was an assistant basketball coach at BSHS when he first learned about Erica Smith. A rising star at Clark Middle School, Smith already was a familiar face to the Braves coaches.
"She started playing when she was in grade school. I think that's when basketball became her love," Oakes said. "As a middle school eighth-grader she became kind of a part of our program at that time.
"As her season ended, she came up and acted kind of like a little version of a manager for us and hung around the gym. She saw how we did things and kind of became a part of what we were doing as an eighth-grader."
The following year, Oakes was promoted to head coach. As expected, Smith showed up for tryouts and earned a varsity spot as a freshman.
The Braves struggled to a 5-16 record, but Smith saw plenty of playing time and gained an understanding of what varsity basketball was like. Even at a young age, Oakes said Smith displayed a work ethic he knew would be valuable to the program for years to come.
Smith became a regular starter as a sophomore and developed into one of the Braves' top perimeter shooting threats. In addition, she was a dedicated defensive stopper, unafraid to back down against opponents who were bigger or stronger.
"The main thing that I remember, and it's never going to quit with her, is that she has that fight and that will to go out and give you 110 percent at all times," Oakes said. "It doesn't matter what the situation is or whether things are going well or things are going bad or she doesn't feel well that day. She has a will and desire to succeed."
Program in transition
The Braves went 4-17 during Smith's sophomore season. A year later, Bonner Springs posted a 6-15 mark as the makeup of the program shifted dramatically to a youth-oriented lineup. An exodus of upperclassmen left the Braves short on leadership.
Oakes needed someone to step up alongside senior Lynsey Ostman, and he knew exactly where to turn.
"It's something Erica really wanted," Oakes said. "It's a role that she started to try to take on as a junior, and it's a role that she had to.
"It wasn't absolutely 100 percent natural for her. It was a growing situation where we worked together and over time she grew into it. We talked about the things that it took to be a leader and what the players that were following a leader looked for. We talked about some of the different ways you handle your players and look at different situations and just the way you lead your team overall, on the floor and off the floor."
Smith led by example as a junior.
As the only senior on the roster during the 2010-2011 season, however, Smith did it all.
Going out strong
After dabbling in other sports during her first three years of high school, Smith turned her attention solely to basketball for her senior year. It was her love, and she wanted to make her final season her best one at BSHS.
"I just wanted to focus more on basketball this year because I wasn't as passionate about those other sports," she said.
Smith played club basketball in the summer and trained with the Braves. They played a rigorous summer schedule and compiled a surprising 25-9 record.
"Throughout the years we've all become so dedicated," Smith said. "We've put OUR time in because that's what we wanted to do. Everyone just worked so hard during the summertime — and that's when it counts."
After years of struggling during the school season, there was reason to believe the successes of the summer would carry into a breakthrough year.
"When she got here, we struggled to get some wins … five or six wins a year," Oakes said. "She's been a big part of the reason that things have turned around. Her leadership and the work ethic that she's instilled and shown as an example for our younger players is hopefully a legacy that will carry on for many years in the future."
Wins piled up during the 2010-2011 campaign, and Smith was a big reason why. Whether it was her work ethic every day in practice or her words in the huddle during games, Smith was the Braves' conscience.
The Braves won their first two games of the season, a feat that instilled the team with confidence. Later, they finished third at the Wellsville Top Gun Tournament and also upset perennial power Sumner Academy 54-51 late in the regular season. They shocked rival Lansing 55-47 on the road thanks to a 21-0 fourth-quarter run, and Smith scored a season-high 21 points including four 3-pointers.
The Braves won their first postseason game in five years, and their 15-6 record was the program's best since 2002-2003.
The improvement would have been impossible without Smith's contributions, Oakes said.
"It's awesome to see someone who's had dreams and knew what her goals were and knew what kinds of dreams she wanted throughout her high school playing career … it's neat to see all those dreams come true," Oakes said.
Lasting legacy
Smith is Oakes' first four-year senior at BSHS, and her contributions are immeasurable, he said.
From the moment she entered the program until the moment she left, Smith worked diligently to help turn the Braves into winners.
More than an on-the-court standout, Smith also was a classroom champion. She was a dedicated member of the school's journalism program, and she was a diligent student. Ultimately, her athletic and academic careers ended on a high note.
"This basketball season was amazing. It was really rewarding," she said. "All of the work and frustrations that we've had for the past few years finally paid off. And as far as school, I'm a valedictorian, so it's going to be really nice to be able to stand up and speak in front of everybody (at graduation)."
Smith will play college basketball next year at Fort Scott Community College. She plans to study psychology.
Oakes knows Fort Scott is getting a great student, leader and basketball player in Smith. After all, she was one of Bonner Springs' best.
"My message (to the Fort Scott coaches) would be that the player that they saw when she came down and tried out is the player they're going to see every day," Oakes said. "She's going to be the player that's not going to back down; she's not going to be scared of anybody. She's going to go out and give them 110 percent every single day."