Daughter cataloging mother's years of historic accounts recorded on tape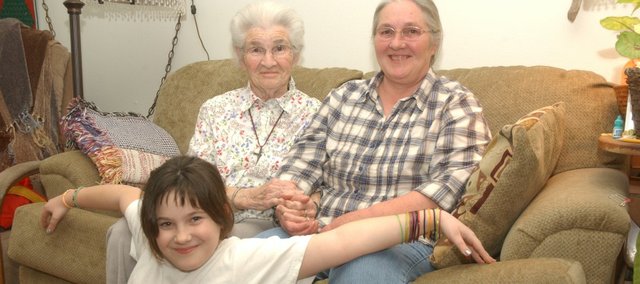 As Eleanor McKee tells a story of a protective coyote-dog hybrid her family owned while she was growing up, her great-granddaughter Maria Taylor interjects that the dog should have been around for the rooster incident.
The rooster stars in another of McKee's childhood stories. It chased her brother twice through a barn before he ran a pitchfork tine through his toe.
Maria was only following her great-grandmother's lead. Her recollections of her family taking refuge from a tornado in a cave where her father had the foresight to store an ax, which would be needed to chop through a door blocked by a down limb, spurs memories of her mother feeding men walking the roads during the Depression.
"She's always telling stories," McKee's daughter Cathy Plaster said. "She remembers a lot. She remembers falling out of a rumble seat."
With Plaster's recent retirement from Kansas City Community College, her mother's past will become her immediate future. Plaster is transcribing five cassette tapes of McKee's recollections.
"She had a little handheld cassette recorder, and she's just telling stories," Plaster said.
More than stories, the tapes are her life story, Plaster said. And it's been an interesting one, she maintains. She grew up on a farm on the Potawatomi Indian Reservation south of Holton during the Great Depression, lived for years in Manhattan as the wife of the agricultural school's farm supervisor and served a stint in Colorado with the Vista Corps.
But McKee, who sometimes recalls history in her Mirror column Aunt Norie's Sewing Room, concedes life is a series of stories, and that those on the tapes were familiar to her six children and grandchildren.
"It's just been a part of our family," she said. "I tell the kids and grandchildren those stories whenever there's an opportunity to tell tem. They seem fascinated by grandma's stories."
It was a tradition she inherited from her mother, McKee said.
"My mother remembered how her aunt had a supply store in the mountains of Colorado during the Gold Rush," she said. "The snow was so heavy during the winter in Cripple Creek, sometimes they had to ski out the bedroom window.
"Mom would tell stories like that."
McKee said her mother, Garnet Mize, also told of growing up on a farm in Abilene as neighbors of the Eisenhowers. Her mother's sister was a classmate of future president David, and his younger brother Milton, who became famous in his own right, was between the two girls in age.
Her mother told stories of her and her sister riding a buggy in the snow to school with a heated flat rock for warmth, McKee said.
Denise Sullivan, Leavenworth County K-State Extension agent for family and consumer sciences, said she would encourage others to have their elderly family members commit their histories on tape or paper while they can.
"Anything you can do to have the family members to share their heritage is a worthwhile thing," she said.
McKee's family will treasure her oral history enough to put the tapes in a safe deposit box, Plaster said.
"If she didn't tape them, we'd lose them," Plaster said. "Yeah, I've heard them, but by the time I tell them, they wouldn't be the same."