Basehor-Linwood girls dominant in substate tournament opener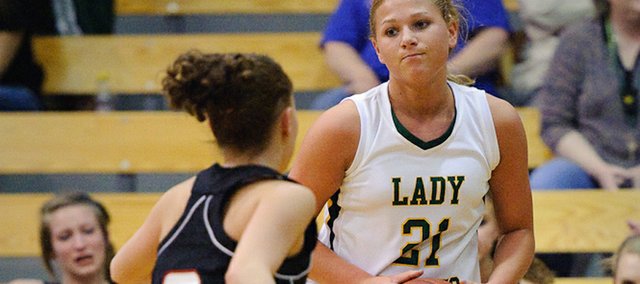 There were high fives all around for Basehor-Linwood girls basketball team as the Bobcats walked out of the locker room Tuesday night.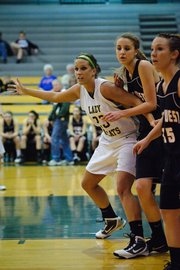 Coaches congratulated players and had different messages for each one.
Collectively, though, the team passed the first test of the postseason with a 60-32 victory against Jefferson County West in the Class 4A substate tournament.
In the victory, Basehor-Linwood played like a team worthy of the No.1 seed, dominating all aspects of the game.
"It was a great first-round win. I am extremely proud of our hustle, intensity and effort in this game," BLHS coach Noah Simpson said. "It was a team effort. The kids all played hard. We had great intensity and focus, and we look forward to two days of practice before the next round."
In the next round, Basehor-Linwood will look to emulate its play against Jeff West.
The team was balanced on offense with three players scoring in double figures. Macyn Sanders led with 14 points. Megan Bergstrom scored 12 points and Courtney Poe finished with 11 points.
Sanders and Poe took advantage of a Jeff West offense that doubled post players throughout the game. As a result of double teams, BLHS had open looks at the basket from the perimeter.
Sanders scored eight points in the first quarter to lead the Bobcats to an 18-8 lead after the first eight minutes.
In the second quarter, the Bobcats shut down Jeff West's offense. Most of the Tigers' possessions ended with turnovers, and the Bobcats went on a 13-4 run and led 34-17 at halftime.
Basehor-Linwood did not allow a field goal in the third quarter. Jeff West's six points came on free throws. Meanwhile, Shelby Equels propelled the Basehor-Linwood offense with five points.
"She hit some shots and started getting going," Simpson said. "That was nice to see."
The score was 45-23 entering the fourth quarter.
Poe made a pair of 3-pointers in the final quarter as Basehor-Linwood sealed the a victory. The team emptied its bench later in the quarter, and the reserves responded with solid performances. Maggie Hattock came off the bench and drilled a 3-pointer in the fourth quarter, which propelled the late-game run.
"I am extremely pleased with the bench and how they played all game long," Simpson said.
With the win, Basehor-Linwood advances to play at 6 p.m. Friday in the substate semifinals at Piper High School. While Simpson wasn't sure who the team would play in the next round, he said attacking on offense and defense will be important.
"Our defense will be key for us. We have relied on it in a lot of games," he said. "The other thing we have to do is attack with the basketball and get to the line. If we can do that, we will have a better opportunity to continue playing.
"Semifinal games are always tough. You had better bring your 'A' game because you are going to get the their best shot."