Basehor-Linwood shut out from the podium at state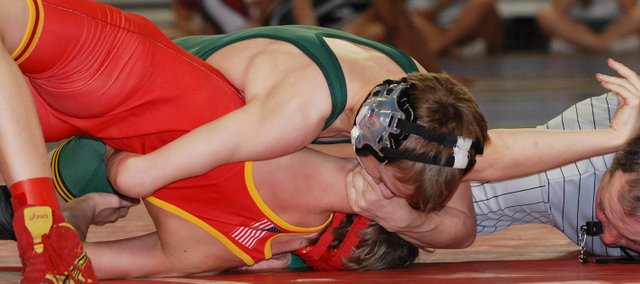 Salina — A year after posting one of the most memorable state tournament trips in Basehor-Linwood High School wrestling history, the Bobcats returned home from the 2011 Class 4A state championships empty-handed.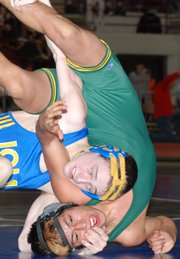 The Bicentennial Center was unkind to BLHS this time around as all four Bobcats were eliminated before the medal rounds.
Basehor-Linwood's best hope for a medal was senior 135-pounder Symon Seaton. A three-time state medalist and 2010 state champion, Seaton missed nearly half the season with a broken hand before returning for the Kaw Valley League tournament. He took second at league and first at regionals. Upon returning to state, things didn't go well for Seaton.
He won his first-round match by a 9-0 major decision against Travis Belnap of Rose Hill, but Seaton then was upended in the quarterfinals by Abilene's Courtney Strauss in a 6-5 decision. Strauss went on to face Bonner's Jonathan Blackwell in the state finals.
Seaton returned Saturday for the cross-bracketing round and held off Jayde Kolterman of Clay Center, 1-0. The victory brought Seaton within one win of the medal rounds. Standing in his way of becoming a four-time medalist was Mike Costa of Hiawatha. The match grew a bit chippy as both wrestlers took injury time, Seaton using his after Costa appeared to target Seaton's injured hand, and Costa when he suffered an apparent arm injury. Costa led 4-2 after the first period and 6-2 after the second. Seaton closed to within 8-4, but he was disqualified for unsportsmanlike conduct with 10 seconds remaining in the match after appearing to strike Costa in the head.
Seaton ended the season with a 17-3 record.
Sophomore Sammy Seaton posted a 1-2 record at 103 pounds and finished the season with a 22-9 record.
Junior Antonio Ferro went 1-2 at 119 pounds and ended the season with a 16-12 record.
Michael Torrez, a senior 112-pounder, went 0-2 on Friday and was eliminated from the tournament. Torrez finished the season with a 21-14 record.