Candidate Lori Van Fleet aims to take focus on students' success to Basehor-Linwood school board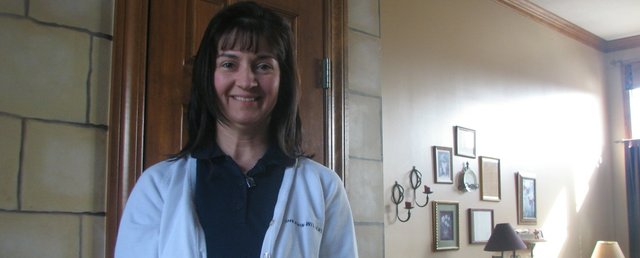 Editor's note: The Sentinel kicks off its coverage of the April 5 local elections today by introducing you to the three candidates vying for the at-large seat on the Basehor-Linwood school board. Jim Peters, Jeff Tindell and Lori Van Fleet are running to take the seat of Doug Bittel, who is not running for re-election after serving two four-year terms in the at-large seat.
Go here for the Sentinel's story on Jim Peters, and go here for the story on Jeff Tindell.
If elected to the Basehor-Linwood school board, Lori Van Fleet says she'll work to help students reach college and succeed there.
In fact, she's already been working toward that goal for several years.
In her volunteer work for the Basehor-Linwood Education Foundation, Van Fleet has visited Basehor-Linwood High School students each of the last four years to help teach a class on applying for scholarships.
"That has kind of sparked my interest, because helping children do well in their lives really is kind of my goal," Van Fleet said.
That passion has spread from her own two daughters to children across the district, she said, which is why she's decided to run for the at-large seat on the school board in the April 5 election.
"I was fairly successful in school, and my children are fairly successful in school," Van Fleet said. "I would like to make sure that other children have opportunities."
Van Fleet, who is vice president of the education foundation, said she began helping with the scholarship class after reviewing local students' scholarship applications and realizing they could use help seeking out scholarships and proving that they are deserving.
"That's kind of made that additional connection to the student for me," she said.
She said the school had seen an increase in private scholarships awarded to students, and she said the education foundation was now working toward a new system of tracking students' achievements after graduation to ensure that they're being prepared for the outside world.
As her daughters, 17 and 13, have progressed through the district from kindergarten, Van Fleet has seen the district improve in its facilities and its leadership, she said, and she'd like to help the district continue that pattern of progress even as it deals with state funding shortfalls in coming years.
"In my opinion, it would just be a continuation of that positive track," Van Fleet said.
Van Fleet managed the paint counter in her parents' hardware store growing up, she said, and after earning a business degree from Kansas University, she was able to develop into a financial manager for the Sherwin Williams paint company. She said that ensuring real-world success for Basehor-Linwood graduates would be her top priority.
"That's really my goal, to increase their capabilities to deal with things in the outside world," Van Fleet said.
She said she was not running with any major agendas or calls for change, but instead wanted to serve as a source of sound decision-making for the district as it confronts tough budgetary times.
"I think the administrators and the board have done a good job with the challenges that have been presented to them at this point," she said.