Girl Scouts get worldly experience at event in Bonner Springs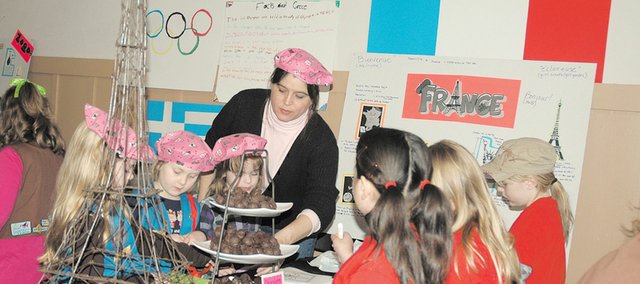 About 150 Girl Scouts from throughout northeast Kansas traveled around the world Saturday morning, but they didn't have to go any farther than the Lake of the Forest Clubhouse in Bonner Springs.
World Thinking Day, which provides Girl Scouts an opportunity to learn about different cultures, is an annual event celebrated by Girl Scouts around the globe. For Girl Scouts in this area, it's normally staged in Tonganoxie, but this was the first year it had been organized and led by Bonner Springs Girl Scout Cadet Troop 1134.
"We thought, we were a Bonner troop, we should hold it here," Kristen Christensen, troop leader, said.
Saturday morning 20 Daisy, Brownie, Junior and Cadet Girl Scout troops from Piper, Basehor, Kansas City, Kan., Tonganoxie and Bonner Springs-Edwardsville arrived at the Lake of the Forest Clubhouse, each troop bringing with them a booth representing a different country. Each booth's presentation included a craft or sample of food to represent countries that included France, Denmark, Egypt and India.
The booths were set up around the room to give the girls a sense of going around the world. They were each given a "passport" that was stamped after each booth's activity was completed. Activities included writing their name in hieroglyphics "in" Egypt, making an Eye of God ornament "in" Mexico and sampling homemade truffles "in" France.
Christensen said the research the girls put into learning about their chosen country prior to the event and the event itself all serve a singular purpose: To "learn an appreciation for other cultures."
"World Thinking Day not only gives girls a chance to celebrate international friendships, but is also a reminder that Girl Scouts of the USA is part of a global community — one of nearly 150 countries with Girl Guides and Girl Scouts," Christensen said of the event that was started in 1926.
To uphold this theme of cultural understanding, the Bonner troop this year added to the ceremony that is largely the same each year. In addition to the Pledge of Allegiance and Girl Scout Promise being recited at the beginning of the event, the Bonner scouts conducted a candle-lighting ceremony to honor the differences among Girl Scouts around the world.
The Bonner troop also invited members from the Ethnic Enrichment Commission of Kansas City to set up booths and bring food for all the attendees to try. Though some had to cancel due to the morning's icy roads, Christensen said, members from Denmark, Ecuador, Lithuania and Thailand were on hand bearing artifacts from their countries and foods like empanadas, a Latin American pastry, and Lao Khao Dome, a blend of rice, coconut milk and beans in a banana leaf.
World Thinking Day gets girls thinking about the bigger picture that's available outside of their own country, Christensen said, and the girls on Saturday seemed to take this lesson to heart.
"We can see what's different from what we are right now and what we do," said Megan Wyatt, a Junior Girl Scout from Bonner Springs.
Fellow Junior Girl Scout Carolyn Mosburg agreed, saying the day had inspired her to think about traveling in the future.
"Learning about the food and the culture" were Mosburg's favorite parts of the celebration because, as she said, "... we want to see if the food is good or bad so we can visit someday."
Christensen said the nine members of the Bonner Cadet troop would earn their Silver Award, the highest award a Cadet can earn, through planning and organizing this year's World Thinking Day celebration. During the event, members said they were looking forward to receiving their award, but noted being in charge was a lot of work.
"It's not as fun as when we were little and we used to go around (the booths), but it's still fun leading," Siera Bernard said.
The event also served as a fundraiser and donation point for the Leavenworth Family Alliance, as the Girl Scouts were asked to either bring $3 or a donation of such items as pillows, diapers and toiletries. As of press time, Christensen didn't know how much money had been raised.
"We got a lot of donations," Christensen said. "My (living room) floor is full of donations."
Photo Gallery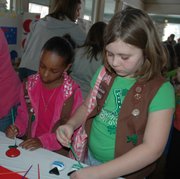 World Thinking Day
World Thinking Day was Saturday and offered a chance for Girl Scouts from throughout northeast Kansas to learn about other cultures through booths representing different countries.