Kaw Valley Relay for Life expects to reach milestone in 2011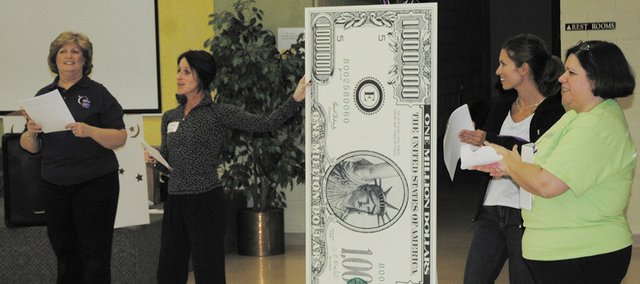 With 24 teams already signed up for this year's Kaw Valley Relay For Life, the event is well on its way to meeting a big goal in its ninth year.
As long as the relay raises at least the minimum amount it has raised annually in the previous eight years, it will reach the landmark of $1 million raised in its history. And as Sheryl Chadwick and Kristie Brady, co-chairs of the event, said, this goal is well within reach.
The event to raise funds for the fight against cancer brings together participants from Basehor, Bonner Springs, Edwardsville and western Shawnee, and last week, organizers held a kick-off meeting for those interested in participating this year. Many new teams and members of the teams who have already signed up came to learn about the million-dollar goal and a few changes that should help them raise funds this year.
Chief among the changes for 2011 is there is no limit for a team size; teams were previously limited to 15 members. Also new this year, luminaria bags can be sold prior to the event and their sales can be considered as part of the total funds raised for a team. In prior years, the luminaria sales had been a separate fundraiser.
Each team raises funds to support their participation in the relay, in which at least one team member is continuously walking the relay track throughout the night, symbolizing a cancer patient's battle with the disease. Additional funds are raised through activities during the relay.
This year's relay is set for June 10 at Bonner Springs High School's track.
Chadwick said the Kaw Valley event usually has about 40 teams.
"We're hoping that our teams that have participated in the past will come back again this year, as well as we'd love some new teams," Chadwick said.
In its first eight years, the event raised a gross amount of $938,459, so this year's event would need to raise just $61,000 to meet the $1 million mark.
But the event wouldn't need to raise much more than that to meet $1 million in net funds raised because the organizers are able to keep their overhead costs so low. Chadwick said they try to keep expenses at about 3 percent every year, so to meet a $1 million total in net funds, the event would need to raise $110,000.
While the fundraising totals have slowly fallen in the last couple of years due to the economy, even last year's total beat $110,000.
By reaching $1 million raised, the Kaw Valley relay would be placed among the top relay events in the area. Caitlin Ginestra, American Cancer Society spokesperson, said the Kansas City region has had six of its 63 relay events reach $1 million raised already. Some have done it in as little as four years, while others took 11 years to reach the mark, depending on the size of the community and events.
"Even with the economy, we've seen the relays come together and make their goals because they know how important the relay is to the American Cancer Society and the community," Ginestra said.
Even the first annual Kaw Valley relay raised more than $61,000, and the community has always been a big supporter of the event, so Chadwick said she is hopeful that meeting the goal will not be a challenge.
"It's definitely within our grasp," she said.
Those who would like to learn more about the relay can visit relayforlife.org/kawvalleyks or contact Chadwick at 441-3632.