Knitters' mission is to welcome newborns to life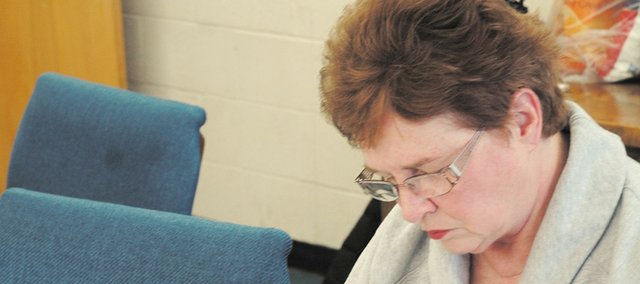 On the last Saturday of the month, a group of women meet with the purpose of providing a little more warmth and happiness to people they don't know and likely will never meet.
The group, called Missions for Newborns, has been working for the past year to make sure that new babies at local hospitals receive a gift on their birthday: a hand-knit hat and baby booties. The group of Bonner Springs and Edwardsville residents began making these gifts for newborns at Providence Medical Center, but has since expanded its offerings to include Kansas University Hospital. With a little bit more help, the members hope to contribute to even more newborns.
The group was the inspiration of Judith McGhee of Edwardsville, who said she got the idea in January of 2010.
"I was just minding my own business, sewing, and something encouraged me to look up patterns for babies," she said. "I looked up volunteer work, I looked up hospitals — I had no idea where I was going with it. But I just felt that the Lord had burdened me with that, so that's what I did."
McGhee eventually learned that Providence Medical Center only had the funding to provide very basic, thin stocking caps and socks for its newborns and would welcome a group providing hats and booties.
"I was so excited about it because I had this calling and I didn't know what to do with it," McGhee said. "I'd never had that happen before."
She shared the news with her fellow crafter and neighbor, Nina Lohmann, who readily agreed to help McGhee in her mission. Lohmann recruited her daughter-in-law, Debbie Lohmann, who is the youth director at First Christian Church in Bonner Springs, and the group has slowly grown to about 10 core members, with several others helping out from home.
The members were needed because McGhee learned that Providence averaged up to 120 births every month. It took the group about two months to build up enough hat and booty sets to take in 120, and then have enough for 120 the next month. On March 5, they made their first delivery.
In August, the group expanded to Kansas University Hospital thanks to group member Dorothy McGregor, who works as a nurse there. In December, they reached a total of 1,000 hat and booty sets donated.
The group puts a lot of thought into their designs for the hats, making Christmas-themed sets in December and pumpkin sets in October. In September, they made burgundy hats with a leaf at the top and a worm coming out to make the hats resemble apples.
The members say they don't get much feedback for their efforts, but they have learned a few stories — a nurse who shared that a mother shed happy tears when she saw the hat and booties gifted to her baby; another mother who said she couldn't believe a stranger cared that much for her baby.
The group also heard a special story from a woman who visited their booth at Edwardsville's Autumnfest last year.
"She came to our booth and the first thing she said was 'You saved our baby!'" Debbie Lohmann said.
The woman said she came to the booth because she recognized the hats. She said the mother of the baby fell asleep while holding the baby, and the baby fell to the floor.
"She said had it not been for the thickness of the little hat, the baby would have injured herself," McGhee said.
The group members are pleased with their efforts and happy they can provide the hats and booties to two hospitals that tend to serve some of the more underprivileged families in the metropolitan area, but they would like to do even more.
"We can't handle it without more volunteers, and we'd like to branch out," McGhee said. "We'd like to get out and do this for as many babies as we can."
Volunteers need not be knitters. Nina Lohmann belongs to a craft group and had used a tool called the "Knifty Knitter" to make baby hats before, and the group has purchased a few for new members. The round, plastic loom makes knitting the hats very simple for beginners.
"Anybody can work the Knifty Knitter — just about anybody but me," jokes McGhee, who can't seem to get the hang of the tool.
McGhee's husband, Larry, even gets in on the act, thanks to the Knifty Knitter — he's the one responsible for all the hats she contributes, while she knits the matching booties.
"He can make a hat in an hour on the Knifty Knitter, and he said 'Oh, I can do it faster than that if I put my mind to it,'" McGhee said.
Toni Guthrie joined the group after running into Debbie Lohmann at a volleyball game and noticing her knitting some items. She found the volunteer effort worked perfectly for her.
"I don't feel like I do enough because I have a baby, and I can't go and be involved in the youth (activities) and do all the things I really like to do," she said. "So I feel like with this, I'm really doing something."
Guthrie didn't know how to knit previously but has become very proficient with the Knifty Knitter – the other group members often commend her on her creative designs.
The community also can contribute to the group's efforts with a donation of a gift card to a craft store or a donation of yarn. The group only uses soft, baby-friendly yarn, brands like Simply Soft and Burnat, and cannot use wool yarn, per the hospital's request, since the material is too flammable.
In addition to their meetings at First Christian Church, some members meet at 4:30 p.m. on the second and fourth Thursdays of the month at Edwardsville United Methodist Church. To learn more about contributing, contact McGhee at 422-2042 or Jude_585@hotmail.com.