Sidewalk shoveling, parking lot ordinances move forward in Bonner Springs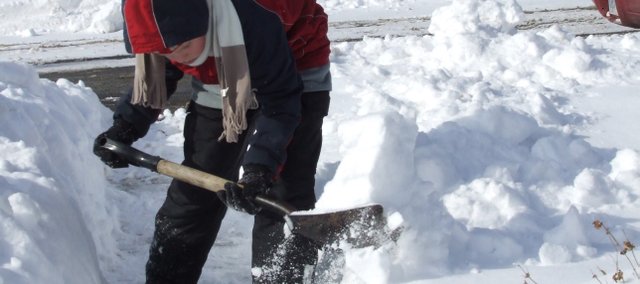 The Bonner Springs City Council will move forward with an ordinance that allows city-owned parking lots to be used by private entities for events up to four times annually.
The new ordinance, discussed Monday before the council's regular meeting, will require both not-for-profits and businesses to obtain a permit several weeks in advance of an event if they would like to use a city parking lot for the event. Businesses would be required to pay for the permit, while organizations with a 501c(3) status would not be charged.
"It puts into law what we've done with the chamber and other events for years," Rita Hoag, city clerk, told the council.
The cost to a business would be $100 for most events but $500 for events that involve the sale or consumption of alcoholic beverages. These fees would be in addition to the temporary permit fees the city already charges for cereal malt beverage and alcohol sales.
John Helin, city manager, said he came up with those suggested prices based on rental fees the city charges for events at the community center and other park facilities.
The permit also is only necessary if actual event activities take place in the city-owned parking lot. If the lot is used only for parking for a nearby event on private property, a permit is not required.
"As long as they're using it for a parking lot, that's fine, that's what it's there for," Helin said. "As soon as you decide you want to have an event, you need a permit."
Under the ordinance, one event can last up to three consecutive days, so there was some discussion if the charges should be given per event or per day. Council member Wayne Gray suggested that because there was no additional paperwork to file for additional days, it should be charged per event for now. The council agreed it could review the charge in a year if multiple-day events proved to be burdensome for city staff.
The issue became a point of contention in the last couple of years in part because one downtown business, Kobi's Bar and Grill, had used part of the Centennial Park parking lot at Second and Cedar Streets for events.
Several council members asked questions specific to events Kobi's has held in the past, but others cautioned against tailoring the ordinance to one business.
"Our job is not to run somebody's business in this town, our job is to look out for the whole city," Gray said.
Council member Jeff Harrington asked how an event would be designated as a non-profit, as some businesses may hold an event to benefit a non-profit organization.
Helin said it depended on who made the permit application — if it was the business or the non-profit organization that the event benefited.
The council also approved moving forward with changes to the city's policy regarding shoveling of sidewalks following a snowstorm.
The new policy would require snow to be removed to make at least a small pathway on the sidewalk within 48 hours of a snowfall, or residents could be ticketed. Residents would not be required to shovel recreational walking trails that run along their property.
The policy would go into effect this fall.
Both policies still need the approval of the council in future meetings before taking effect.
The parking lot ordinance will be reviewed by the Board of Zoning Appeals before moving to a council meeting. The shoveling ordinance likely will be placed on the next council agenda, March 14.
During its regular meeting, the council approved all items on the consent agenda and had no items to approve on the regular agenda.