Two Braves are kings of Kansas as Seaton and Blackwell take state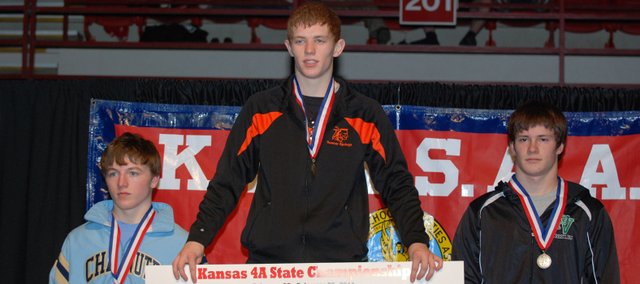 Salina — Time was ticking down on Caleb Seaton, and the Bonner Springs High School senior wrestler knew it.
Trailing 4-2 late in the third period of the Class 4A 125-pound state championship match to Prairie View's Bo Newport, Seaton continued to circle, jab-step and duck, waiting for the perfect moment to strike.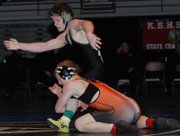 "Forty …" BSHS coach Brandon Jobe called out, informing Seaton of the dwindling seconds on the clock, "30 … 25 …"
Finally, with about 20 seconds to go, Seaton made his move. He engaged Newport as the pair locked arms. Seaton began to twist, jabbing his left leg forward to throw Newport off-balance. Seaton pulled Newport to the mat for a takedown and immediately rolled him to his back for a two-point near-fall before the pair rolled out of bounds.
Just 10.6 seconds remained, and Seaton turned his two-point deficit into a 6-4 lead. From there, he held on for dear life until time expired.
After three straight fourth-place finishes, he was a state champion.
"It means a lot," he said moments after the match. "Walking into this tournament, I didn't really think I'd come out on top. I thought (I'd) maybe settle with third the way the shoulder's been acting up lately. I just went out there and wrestled with what I had left in me, and I guess it worked out."
Seaton wrestled the entire season with a mostly nonexistent right shoulder. He had a hole in his rotator cuff and all of the ligaments were stretched out. He delayed surgery so he wouldn't miss his final shot at a state championship.
Saturday night at the Bicentennial Center in Salina, his mission was accomplished.
Seaton ended the season with a 34-5 record, and he became the Braves' first state champion since Matt Middleton won at 135 pounds in 2004.
Less than 30 minutes later, sophomore Jonathan Blackwell became the Braves' second state champion of the day when he earned a 7-5 decision against Abilene's Courtney Strauss in the 135-pound finals.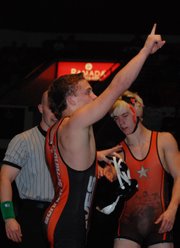 Blackwell confidently marched through the bracket with a first-round major decision, followed by two three-point decisions where he was firmly in control.
The title match was close throughout, however. Blackwell scored the first takedown, but the score was tied at 3-3 at the end of the first period. It was tied 5-5 after two.
Blackwell took a 6-5 lead when Strauss was penalized for stalling from the top position with 59 seconds to go in the third period. Strauss elected to shift to the neutral position with about 30 seconds to go, awarding Blackwell a point for a 7-5 lead but giving Strauss a better opportunity to score a match-tying takedown. He nearly succeeded in the closing seconds but was ruled out of bounds, and Blackwell held him off the rest of the way.
The victory was a bit of redemption for Blackwell after he made a Cinderella run to the state finals and placed second as a freshman.
"This year was a lot different," Blackwell said of his expectations at state. "I was supposed to be one of the best two in the state, so I had to win it. Second really wasn't an option for me."
Blackwell ended the season with a 42-5 record.
Two more Braves joined Seaton and Blackwell on the awards stand. Sophomore Aaron Puckett placed third at 140 pounds and junior Mark Hobson finished fifth at 145 pounds and helped lead BSHS to a fifth-place finish in the team standings with 86.5 points.
Andale won the state title with 144.5 points, Clay Center was second with 108 and Abilene took third with 102.5. St. James Academy finished fourth with 91.
Puckett was a fourth-place state medalist as a freshman, and he climbed one spot up the podium this year at 140 pounds. His lone loss of the tournament came in the quarterfinals against eventual state runner-up Colton Eck of Andale, 6-1. Puckett bounced back Saturday with four straight victories — three of them in dominant fashion — on his way to the third-place match where he earned a 3-0 decision against Kolby Fennewald of Mulvane.
"I started out with a goal to place higher than I did last season," Puckett said. "I ran that by (coach Brandon) Jobe and he said he wanted me in the finals. I met my goal; I finished higher than last year. I didn't make the finals, but I have two more years."
Hobson — a transfer student who placed sixth at state last year in Missouri — closed out his Kansas debut with a fifth-place performance at 145 pounds.
The Bonner Springs junior opened and closed his state tournament with victories by pin, and he compiled a 4-2 record at state. After losing in the championship quarterfinals, Hobson returned Saturday and was dominant for most of the day as he climbed through the consolation bracket. He earned a 6-0 decision against Heath Hoesli of Concordia and then claimed an 8-0 major decision against B.T. O'Hara of Columbus to reach the medal rounds. Hobson lost to Cody Hill of Hugoton, but then Hobson bounced back with a second-period pin of Wellington's Dray Meridith to close out the tournament.
"I didn't get the total performance that I wanted, but fifth place is better than what I did last year," said Hobson, who finished the season with a 33-6 record. "I'm going to be happy with that, but I'm just going to have to strive to work harder and practice harder than anyone else in this room for next year because it's my last year."
NONMEDALISTS
Freshman 103-pounder Josiah Seaton (20-19) posted a 1-2 record at state. He lost his first-round match by pin to eventual finalist Jason Perez of Ulysses, but bounced back and pinned Jacob Christie of Wamego in the consolation first round. Seaton moved on to Saturday's cross-bracketing round where he lost a 13-0 major decision to Reese Cokeley of St. James Academy.
Sophomore 112-pounder Justus Seaton (30-18) also went 1-2 at state. He won his first-round match by pinning Concordia's Brad Hake in the second period. Seaton then dropped an 11-3 major decision to eventual finalist Corey Spader of Spring Hill. After that, he lost in the consolation cross-bracketing round to Baldwin's Tucker Clark, 2-1.
Sophomore 171-pounder Jared Clements (26-15) was the lone Brave to go 0-2 on Friday, and he was eliminated from the tournament.