Bulging Basehor: City more than doubles in size from 2000 to 2010, according to Census data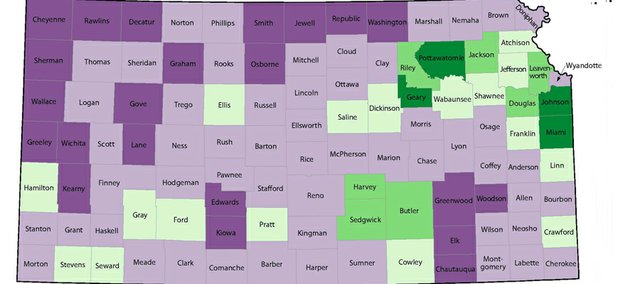 The city of Basehor's population more than doubled from 2000 to 2010, making it the fastest-growing city in Leavenworth County over that period, according to U.S. Census Bureau data from the 2010 Census released this week.
The city's population grew from 2,238 at the time of the 2000 Census to 4,613 in 2010 — an increase of 2,375 or 106 percent. That growth was tops among the six cities within Leavenworth County, by percentage and by total residents added.
The growth in Basehor accounted for nearly a third of the total population growth in Leavenworth County over those 10 years. The county grew from 68,691 residents in 2000 to 76,227 in 2010, an increase of about 10 percent.
Basehor remained the fourth most populous of the six cities with the county, though, as Tonganoxie, the third-largest city, also experienced marked growth.
Tonganoxie grew from 2,728 residents at the time of the 2000 Census to 4,996 in 2010. That increase of 2,268 represented a growth of about 83 percent.
The city of Leavenworth's population declined slightly over the 10-year period, from 35,420 residents in the 2000 census to 35,251 in 2010. Lansing's population grew by about 22 percent, from 9,199 to 11,265.
The city of Bonner Springs, part of which is in Leavenworth County, increased its population by about 8 percent, from 6,768 in 2000 to 7,314 in 2010.
For more on 2010 Census data for Basehor and the surrounding area, check the online and print editions of the Sentinel on Thursday, March 10.