Basehor-Linwood girls hold off Sumner, return to state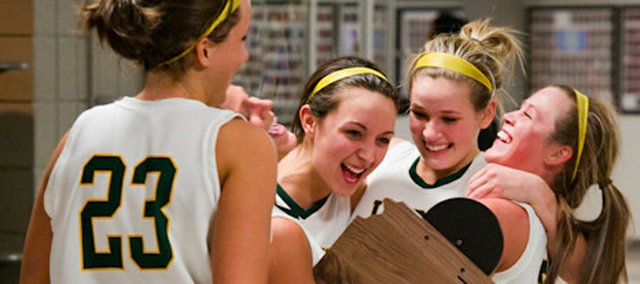 Kansas City, Kan. — Cameras flashed as the Basehor-Linwood High School girls basketball team smiled and posed for pictures in the commons area of Piper High School.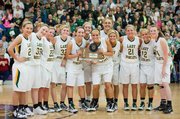 Photo Gallery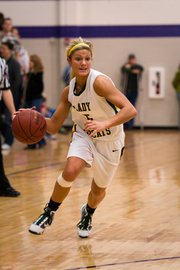 Basehor-Linwood girls 41, Sumner Academy 37
Nick Verbenec shared his photography talents with The Sentinel for this game. To purchase copies of these photos or to view more pictures from this game, go to nickverbenecphotography.com.
The focal point of those photos was the Class 4A substate championship trophy that the Bobcats earned Saturday night in a 41-37 victory against Sumner Academy.
For the third time in four years, Basehor-Linwood had won is headed to play in the state tournament.
"That is an amazing accomplishment," BLHS coach Noah Simpson said. "We talked at the beginning of the year about the opportunity to go to state, and then at midseason we were 7-4. It would have been easy to doubt the dream then, but these kids put forth the effort and earned the chance to go back. Now we have won 11 games in a row and are playing good basketball. I can't say enough about how extremely proud I am of this group of kids."
Megan Bergstrom, who scored 15 points in the victory, said it is a testament to perseverance.
"We proved to everyone that we could do it," she said. "Some people doubted whether we could do it, but we got done what we set out to do."
Basehor-Linwood reached state with 13 players, three coaches and one manager pulling toward the common goal against Sumner Academy. The collective effort was necessary, especially when Bergstrom fouled out late in the fourth quarter.
With 4:14 left in the game, Basehor-Linwood led 32-28. Within possessions of each other, Bergstrom and point guard Courtney Poe picked up their fourth fouls and went to the bench.

Following a missed shot by the Sabres, Jamie Johnson took possession of the ball and dribbled the length of the floor for a basket.
Later, Victoria Smith was fouled and went to the line. Sumner called a timeout in an attempt to ice her, but it didn't work. Smith swished both free throws and put the Bobcats ahead by 10.
"I asked her after it if she was nervous, and she said 'Yeah, but making those shots was awesome,'" Simpson said. "That is something she will remember forever."
Sumner cut the lead to seven points when Kathleen Brisbane drilled a 3-pointer and made the score 37-30.
Bergstrom reentered the game, but picked up her fifth foul quickly. Sumner then cut the lead to four points on two separate occasions, but Basehor-Linwood made three of four free throws late in the game to seal the victory. Macyn Sanders picked off a pass as time expired, ending the game.
"I was only thinking for us to go in and catch the ball and then put it on the ground, because we had won," she said.
The Bobcats' strong finish came after they trailed early. Sumner led for much of the first quarter before BLHS took a 5-4 lead.
The Bobcats opened the second quarter on an 8-2 run and eventually held a 13-6 advantage. Johnson scored four points during that stretch for the Bobcats.
Following the run, Basehor-Linwood committed numerous turnovers and missed numerous shots. The momentum shifted to Sumner as the Sabres went on a little scoring run to cut the lead to four points.
Late in the quarter, Bergstrom made a 3-pointer that gave the Bobcats an 18-12 halftime lead. The Bobcats allowed just three field goals in the first half.
"Defensively, we have been great the last 10 games, and we did a phenomenal job on Samia Kendall and Kathleen Brisbane tonight," Simpson said.
Bergstrom scored six points in the third quarter, and BLHS led 24-20 entering the fourth quarter. Sumner Academy outscored Basehor-Linwood 8-6 in the third quarter.
In addition to Bergstrom's team-high 15 points, Jamie Johnson finished with 7 points, Sanders and Poe each scored 5, Amanda O'Bryan scored 3, and Smith, Shelby Equels and Cara McCarty each scored 2 points.
Basehor-Linwood (18-4) is headed back to state for the second straight season and third time in four years under Simpson. He said he's proud of what the team has accomplished so far, but he said the Bobcats are hungry for more.
"We are excited about it. This is three out of four years that we have gone to state," he said. "Hopefully, we can go down there and have some success. We want the chance to go down there and win some games."