Book chronicles escape from domestic violence
Shawnee resident hopes her story will inspire others to break abuse cycle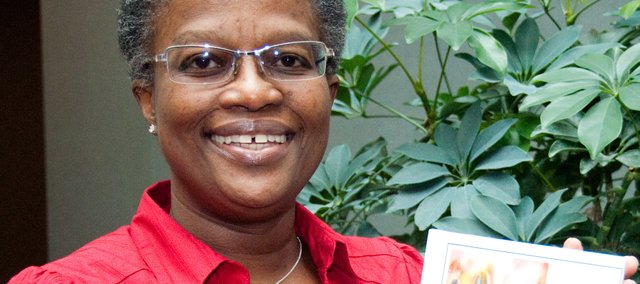 Special to The Dispatch
Darlene Dunn of Shawnee knows firsthand about domestic violence. She lived it, survived it, and now has written a book about it.
Getting to that point wasn't easy.
Her pathway from escaping an abusive relationship of almost two decades to becoming the author of "Don't Die for Love" begins in her hometown of Baton Rouge, La., and ends in Johnson County where she has managed to turn her life around.
For the past five years, Dunn has been an employee of the Johnson County District Attorney's Office, which prosecutes cases of domestic violence. For most of her life, however, she was trapped in the cycle of abuse, confusing moments of love with prolonged periods of abuse as part of a normal relationship and marriage.
Dunn hopes that her book will give other women living in abuse the courage to seek help.
"I want other women to be aware of the signs of abuse and take notice of them. If my story helps to persuade just one woman to get out of a violent domestic situation, then it will be enough," she said. "It's better to live alone than to live with fear and abuse."
In Dunn's case, that was easier said than done.
The change in her life began with her decision to get far away from the abusive relationship. That involved the tough choice to leave her parents and other family members in Louisiana to start a new life in 1999 in Kansas City with her three young sons and the clothing and belongings she could pack into her car.
"It took a long while, but I finally realized that I didn't want to live that way," she said.
The start of a new life some 900 miles from her home state had its own set of struggles. After receiving public assistance for four years and working dead-end, low-paying jobs, Dunn was accepted in the Family Self-Sufficiency Program of the Johnson County Department of Human Services.
The program, created by Congress in 1990 as part of the U.S. Department of Housing and Urban Development, helps participants like Dunn move up and out of poverty.
Participants develop and carry out a personal action plan that will allow them to leave public assistance behind. The plan specifies personal goals over a five-year period and helps link participants to other services, which might include financial literacy, child care, transportation and employment training.
Dunn began the self-sufficiency program in 2003 and completed her action plan in just three years, including the requirement of full-time employment. Since October 2005, she has worked as a receptionist and member of the administrative staff in the District Attorney's Office.
Since then, Dunn has completed an associate's degree in accounting and is working on a bachelor's degree. Her sons have grown into positive, responsible young adults, including her oldest two, who are away from the nest, and her youngest, 14, who is still at home. The support of family and friends, and her strong faith have become the foundation of her life, which includes her first grandchild, who is 1-year-old.
She revised her book last year.
In the beginning, she wanted to write a romantic book. The project ended up being her personal story of escaping the quicksand of domestic violence.
The book details a tragic love story. In 1983, Dunn met "the apple of her eye" as a teen still in high school. Her suitor was captivating, handsome, charming.
"It's love, I thought to myself. He's the man for me," she says in her book.
They quickly became a couple and young parents a few years later, and then the abuse began. The cycle, like many domestic violence situations, involved a backdrop of her partner's excessive drinking and womanizing, his endless pleas to her for another chance and empty promises to stop his abusive ways.
Most of the abuse was verbal and mental. Occasionally, it turned physical.
"He slapped me so hard once that I thought he had broken my neck," Dunn said softly.
It was a rocky road of turmoil and forgiveness before their marriage in 1995. The two divorced in 2002.
Two years later, Dunn's former husband was convicted of murdering his former girlfriend in New Jersey, where he remains in prison.
That fact is still troubling for her.
"That could have been me," Dunn said. "It's really tough, but the cycle can be broken. I'm living proof that it can be done. No one should ever die for love."