New church embraces hints of building's past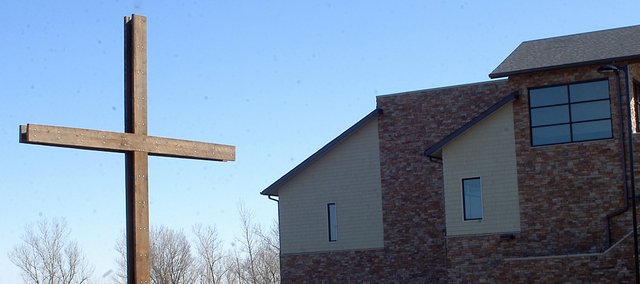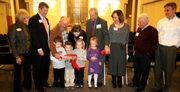 The classic cars are long gone, but visitors can spot other signs of Jasper Wiglesworth's old auto barn in a new Shawnee church.
When Trinity Lutheran Church renovated the barn at 21320 Midland Drive, designers re-reclaimed timbers that Wiglesworth first reclaimed from an old Pierce-Arrow dealership and the Emery, Bird, Thayer department store in Kansas City, Mo.
"My parents would be pleased," Dave Wiglesworth said at the church's ribbon-cutting ceremony, explaining that his father broke ground on the barn in 1975 but continued modifying the structure for decades. "He was never finished with the building … now it is finished."
Jasper and Bernice Wiglesworth bought the 26 acres on a hill overlooking Shawnee Mission Parkway back when there was no development around, Dave Wiglesworth said.
Jasper Wiglesworth built the two-story warehouse to house his collection of more than 100 classic cars, some extremely rare and valuable. After he and his wife died in 2003, their children conducted an auction in 2004 that brought car connoisseurs from around the world to Shawnee.
Trinity Lutheran Church took possession of 18 acres of the property about a year ago and set to work transforming the barn into a modern church.
The Wiglesworth barn is Trinity Lutheran's second permanent location.
Its flagship church has been at Shawnee Mission Parkway and Nall Avenue in Mission for more than 70 years, said Tony Whitter, site leader for the new church.
"We put this building here just to have a Lutheran presence in the west Shawnee community," Whitter said.
He said Shawnee worshipers had been meeting at Clear Creek Elementary School or Perceptive Software's office building for almost 10 years before moving into their permanent home.
The new church features a sanctuary upstairs with classrooms and childcare amenities on the ground level, which has large windows overlooking Shawnee Mission Parkway.
Reclaimed beams, boards and part of the barn's original floor can be found throughout the building, including in the vaulted ceiling and the steps leading down to the children's area.
The church used more reclaimed timbers to construct a 30-foot cross — a symbol of the building's new purpose — next to the church that's easily visible from the parkway.
The Wiglesworth Automobile Collection included bicycles, steam engines, horse-drawn vehicles, fire apparatus and collectibles.
Wiglesworth's first car was a 1923 Pierce-Arrow. Among the most valuable cars in his collection were a circa-1895 Benz 4hp Phaeton, one of not much more than 25 ever produced, and a restored 1913 Mercer 35J Raceabout.
The church's Feb. 24 ribbon-cutting ceremony was emotional for Dave Wiglesworth and relatives who attended, but Trinity Lutheran's new take on the memory-filled barn earned a good review.
"They could have easily come in and torn the whole structure down," Wiglesworth said. "I think it's really great."