BLHS

to battle Colby in state opener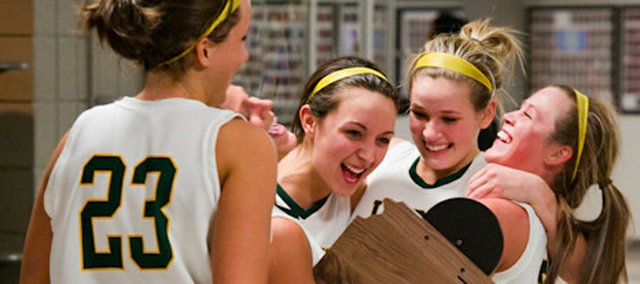 Salina — Noah Simpson has a pretty good idea what the Basehor-Linwood girls basketball team can expect from the Colby Eagles during its first-round game at the Class 4A state tournament.
All the Bobcats need to do is look in the mirror.
Simpson, Basehor-Linwood's fourth-year head coach, spent Sunday and Monday digging up as much information as he could on Colby. Everything he heard sounded awfully familiar.
"They're predominantly a full-court, man-to-man, get-after-it kind of team," Simpson said. "From the people I've talked to, they're a team that plays really hard and can play hard for 32 minutes.
"In all reality, from some of the coaches I talked to (on Monday), it seems like it's going to be a couple teams that are going to mirror each other. We both get out and play 32 minutes of pressure defense, and both teams seem to take care of the ball, shoot well and have good inside post players. It's one of those exciting matchups because you know you're going to have to get out there and get after it to be successful."
The teams will play at 3 p.m. today at the Bicentennial Center in Salina. The winner advances to play either Cheney (23-0) or Topeka Hayden (18-5) at 3 p.m. Friday in the state semifinals. The loser's season is over.
Basehor-Linwood heads to state as the No. 6 seed with an 18-4 record and an 11-game winning streak. The Bobcats' resume includes a Kaw Valley League championship and a sweep of Class 5A Mill Valley (17-4), as well as victories against Class 5A Lansing and Missouri traditional power St. Teresa's Academy.
The Bobcats are making their third trip to state in the past four years and their second in a row. They were the No. 8 seed in 2010.
Simpson said last year's experience should help his team.
"I think it's going to be a huge help," he said. "I can tell you that the practice we had (Monday) was an absolutely different practice than a year ago on the same day. Last year we definitely were focused and we definitely kept our composure throughout that game, but I'm not sure if we truly believed that we belonged (at state) until maybe halftime. This year we've got a group of kids that believe they belong. It's a little bit different mindset with these kids. Last year was an exciting experience, and for a lot of them it was their first chance to go to state and we were excited to be there. This year it's 'Let's do everything we can to win.' I know the kids don't want to go out and come back after Thursday. They definitely want to stay through Saturday."
Colby enters as the tournament's No. 3 seed. The Eagles boast a glossy 21-2 record, most of it compiled from playing in the newly formed Great West Activities Conference. It's a league that includes Class 3A and Class 4A schools.
Point guard Kayla Hockersmith is a speedy floor leader, and the Bell sisters provide an inside-outside combination as Morgan Bell is a steady outside shooter and Lauren Bell is a strong inside presence at 5-foot-10.
"They've been to state before. This isn't their first rodeo. They know what it takes," Simpson said. "They've got a 21-2 record, so they know how to win and be successful. It's going to take great effort from our kids, but we're extremely excited to be in this position again and have the opportunity to go out and play."