Bobcat power prevails as boys repeat, girls 4-peat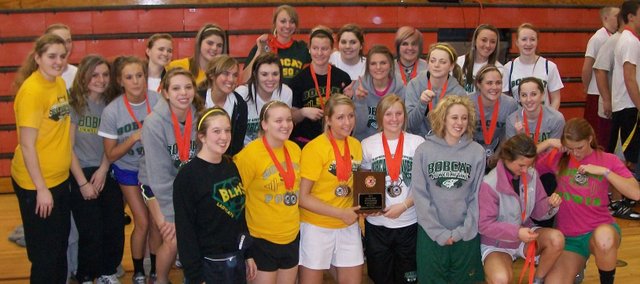 The Basehor-Linwood High School boys powerlifting team has spent almost the entire season playing second fiddle to Topeka High.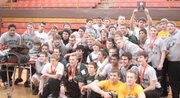 The Trojans are a Class 6A school, however, so the Bobcats embraced each opportunity to face the lifting powerhouse during the regular season. Then, on Saturday at Abilene High School, the BLHS boys took their turn as the most powerful program when they won their second straight Class 4A state championship.
"I was chatting with the guys, and I said, 'You do realize it was good to have Topeka High at all those meets, right?' And they were like, 'Yeah,'" BLHS strength and conditioning coach Ross Schwisow said. "Regardless of classification, in powerlifting you can take your number (of pounds lifted) and you can say, 'Here's 4A, here's how that would have done in the 5A or 6A classification.'"
Even though Topeka High was at a different state meet, the Bobcats knew a championship wouldn't simply be handed to them. They had to earn it, and traditionally strong programs like Russell and Buhler stood in the way.
Schwisow encouraged his lifters to try to place one spot higher than they were expected to going into the meet and try to earn additional points for the team.
The Bobcats started strong. John Oliva won the bench press with a 135-pound lift in the 114-pound weight class, and Antonio Ferro posted a first-place 245-pound squat in the 123-pound weight class. Then Cory Stephens won the clean (a state record 235 pounds) and overall weight categories in the 132-pound class while Russell Clark won the squat (320 pounds)
Deric Brannan followed suit by winning the squat (340 pounds) and overall weight (760 pounds) categories at 140 pounds.
"We knew at about (the) 156 (pound class) we were standing good, but we don't have many upperclassmen who are big guys so we didn't know for sure (we would win)," Schwisow said.
Nathan Quigley bolstered the Bobcats' team score by winning the bench press (285 pounds) in the 181-pound class, and Jacob Powell came through big in the 242-pound class by winning the bench press (290 pounds) and overall weight (970 pounds).
Numerous other Bobcats produced personal records in the various lifts and recorded second-, third-, fourth-, fifth- and sixth-place finishes that garnered more team points. In the end, the collective effort earned the BLHS boys 84 points, far ahead of runner-up Buhler's 47 and third-place Clearwater's 32.
"I know they were proud of their accomplishment; I think they were fulfilled," Schwisow said.
The BLHS girls also were fulfilled as they captured their fourth straight state championship, running away with the title by amassing 117 points. Royal Valley took second with 43 and Russell was third with 42.
The BLHS girls have had so much success in recent years that they were the overwhelming favorite to win again. Still, Schwisow challenged them to strive for more.
"I told them, 'There are 10 weight classes. We know if we win half of them we win the team title. Let's go get six,'" Schwisow said. "And we almost did."
Alyssa Rucker set the tone by dominating the 105-pound class, winning for squat (185 pounds), clean (110 pounds) and overall weight (395 pounds). Rachel Cook followed fith a first-place finish in the bench press (105 pounds) in the 105-pound class. Then Hannah Tush won the clean (140 pounds) and overall weight (440 pounds) in the 123-pound class while Alex Bright won for bench press (115 pounds).
Courtney Leive was the 132-pound champion in the bench press (105 pounds). Kara Stephens and Brandi Stahl combined to dominate the 140-pound class with Stephens winning the squat (240 pounds) and Stahl winning for clean (150 pounds) and overall weight (470 pounds).
The surprise of the day came from Melissa Seaman — a longtime point-producer during the Bobcats' reign. She has been rehabilitating from a torn anterior cruciate ligament and was limited to doing the bench press this season, but at state she returned to the full circuit in the 148-pound class. In doing so, she won the clean (155 pounds), squat (255 pounds) and overall weight (555 pounds) categories and finished second in bench press (145 pounds).
"She was in a bench press battle with another girl," Schwisow said, "and Melissa did break the state record on bench but then the other girl beat her. Melissa won Lifter of the Meet."
Brittany Billinger was second in the squat (235 pounds), second in the clean (140 pounds) and third in bench press (110 pounds), but her all-around performance earned her first-place for total weight lifted (485 pounds) in the 156-pound class.
Also for BLHS, Kelsie Belk won the clean (155 pounds) in the 180-pound class, Courtney Jordan won the bench (120 pounds) in the 180-pound class and Mallorie Belk won the Clean (175 pounds) in the powerweight division.
The collective effort, which included numerous second- and third-place finishes, propelled the Bobcat girls to their latest championship.
Schwisow said he looks forward to seeing his powerlifters take what they gained during the winter and carry it over into helping Basehor-Linwood's spring sports programs succeed.
"You see names of a lot of kids that we'll see this spring. We're trying to get more kids to do this," he said. "A lot of the freshmen who lifted with us, we've got them out on the track team now. We've told them, 'Use your power and go get faster.' It's one of those skills that's going to feed the next one."
The Basehor-Linwood powerlifting program is graduating a large senior class that has contributed to numerous state championships.
The senior girls are: Kaitlin Allen, Kelsie Belk, Brittany Billinger, Shelby Equels, Jessica Farris, Chelsey Journey, MacKenzie Lee, Shelby Miles, Shelby Pierce and Melissa Seaman.
The senior boys are: Miles Brown, Mitch Cook, Caleb Johnson, Jacob Peterson, Rob Peterson, Jacob Powell, Nathan Quigley, Patrick Rutherford, Jayce Rymer, Alec Shandy, Trent Smith and Cory Stephens.