ON

TO

THE

SEMIFINALS

: Bobcats take down Colby, 37-28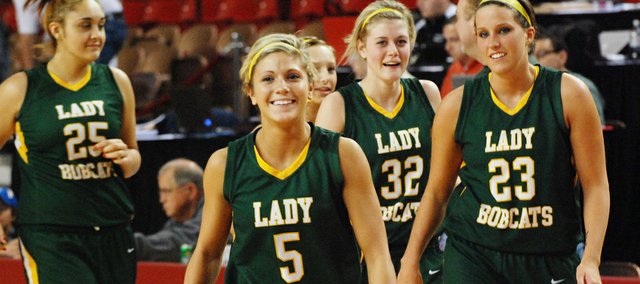 Salina — Basehor-Linwood takes pride in being an aggressive man-to-man defensive team.
Photo Gallery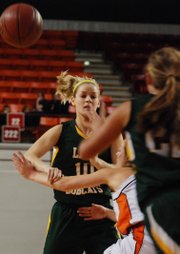 Basehor-Linwood girls 37, Colby 28
Photo Gallery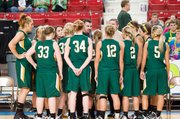 Basehor girls win state opener
Nick Verbenec of nickverebenecphotography.com has shared some of his photos from the Basehor-Linwood girls basketball team's 37-28 victory against Colby in the first round of the Class 4A state tournament. To purchase these photos or view more, check out his website.
Sometimes the bread and butter goes stale, however, and a team has to try a new recipe.
That was the case for the Bobcats during their first-round game against Colby at the Class 4A state tournament. The man-to-man got eaten up, so the Bobcats switched to a zone defense that devastated Colby's plans.
"I don't think they knew what to do," BLHS senior Amanda O'Bryan said of Colby's offensive collapse.
The Eagles had no answer, and Basehor-Linwood rallied from a seven-point deficit to claim a 37-28 victory Thursday at the Bicentennial Center.
The Bobcats came out aggressive on offense, although they weren't particularly sharp. They missed their first three shots and first two free throws before Colby senior Katherine Kaus buried a 3-pointer from the top of the key for a 3-0 Eagle lead. BLHS senior Courtney Poe answered with a trey at the other end. The squads then swapped baskets two more times and were tied at 5-5 and 7-7. Colby scored both baskets on layups.
A 14-foot jumper by sophomore Lauren Bell, followed by a free throw from sophomore Mackenzie Curry, a slashing layup by sophomore Katrina Kaus and a 17-footer from Bell allowed the Eagles to surge to a 14-7 lead. Basehor-Linwood turned the ball over three times during that span before a turnaround jumper by senior Megan Bergstrom pulled the Bobcats within 14-9 after one quarter.
When Katrina Kaus split the defense for a layup on Colby's first possession of the second quarter, BLHS coach Noah Simpson knew he had to do something different. His squad trailed 16-9 and the game was about to get away from the Bobcats.
"I think what forced the change was just their ability to get to the basket," he said. "They constantly got layups and easy shots off of us, and I just felt like we were really slow guarding the ball. We did a good job in help and stuff, but we just didn't guard the ball well."
Enter the zone defense. Exit the Eagles' offense.
Basehor-Linwood dictated the tempo for the rest of the quarter. Colby grew impatient against the zone and forced layups and 3-point tries that were well guarded. The Eagles went more than six minutes without a point.
Meanwhile, the Bobcats grew comfortable with the tempo and worked for good shots. Senior Courtney Poe buried a 3-pointer, sophomore Jamie Johnson sank a free throw and senior Macyn Sanders converted a three-point play that tied the score at 16-16 with 1:49 left in the quarter.
A layup by Katrina Kaus that was well defended put Colby ahead 18-16 with 41 seconds to go, and that score stood at halftime.
Momentum was shifting toward Basehor-Linwood, but it appeared to be lost when, just 95 seconds into the third quarter, Bergstrom hobbled off the floor with an ankle injury.
The Bobcats didn't panic.
"We trust each other," O'Bryan said.
Moments after Bergstrom's exit, Johnson swished a 3-pointer from the right wing that gave Basehor-Linwood its first lead of the game at 19-18.
"We can't rely on Megan (to carry the load) all the time," Johnson said. "She helps a bunch, but as a team we've got to pull together and win."
Colby turned the ball over on three of the next four possessions while BLHS used a Sanders free throw and a three-point play from Johnson to build a 23-18 lead. Colby's only points of the quarter came on a 17-foot jumper by Bell with 25 seconds left in the quarter. That brought the Eagles within 23-20 entering the final eight minutes.
Bergstrom returned in the fourth quarter, and Sanders quickly found the senior forward for a bucket on the low block.
The Bobcats struggled to extend their lead, but Colby continued to look lost on offense.
The Eagles scored their first points of the fourth quarter on a 3-pointer from Katrina Kaus with 4:30 to go. BLHS answered on the ensuing possession when Sanders found Poe open for a trey that pushed the lead back up to five points. Katherine Kaus then swished a 3-pointer that cut the score to 28-26 with 2:55 to go. The teams then swapped turnovers before Sanders again found Bergstrom on the low block for a turnaround jumper that gave BLHS a four-point lead.
Colby answered one last time with an 18-footer from senior Kelsey Shields that made the Bobcats' lead just 30-28 with 1:19 to go. Poe hit four free throws, Sanders sank two, and Bergstrom hit one down the stretch to put the game away.
After scoring 16 points in the first 8:50, Colby scored just 12 in the final 23:10 against Basehor-Linwood's zone.
"They didn't know what to do out there, so we just stuck with the zone and it worked," Johnson said.
Katrina Kaus led Colby with 9 points, Katherine Kaus scored 6, Curry had 5, Bell scored 4, Shields had 2 and senior Kayla Hockersmith added 2. The Eagles finish the season with a 21-3 record.
Poe led Basehor-Linwood with 13 points, Bergstrom scored 11, Johnson had 7 and Sanders scored 6.
Simpson praised his team for its perseverance, and he said the Bobcats are excited that they still have an opportunity to achieve their ultimate goal.
"We didn't come down here just to have fun. We really did come down here to win," he said. "We talked about (in the locker room) 'Yeah, the worst we can get is fourth, but that's not what we're here for. We're here to try to win a state championship. That's what our school's been about the last few years, and that's what we need to do.' These girls deserve it.
"Tomorrow's going to be a tough game no matter who we play, Cheney or Hayden, but if our defensive pressure and intensity comes with it again like it did tonight, then I'm very happy about where we're at."
Basehor-Linwood (19-4) advances to face defending state champion Cheney (24-0) at 3 p.m. Friday in the state semifinals. Cheney advanced by beating Topeka Hayden, 61-43.