Wristen: After three years of frustration, Braves' Smith goes out a winner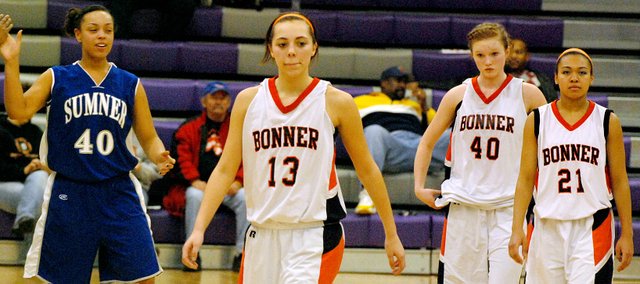 Shortly after her final game as a Bonner Springs High School basketball player ended, senior Erica Smith walked down the hallway with junior Erica Wilson.
The players had an arm wrapped around each other's shoulder and smiles on their faces. Friendly chatter echoed in the hall.
Sumner Academy beat BSHS 43-29 in the Class 4A substate semifinals earlier Friday night, but Smith didn't look like a player devastated by a final loss. Instead, she looked almost tranquil with her arm around her friend.
Yes, the loss stung. She desperately wanted to go to state with this team — her team. But even in the moments after the loss Smith had things in perspective. So much good happened this season Smith couldn't walk away with a frown on her face.
"I am so proud," she said of the progress the team made this season. "It makes me tear up a little bit because I've seen it grow. I'm so proud of all of the girls. I've learned just as much from them as they've learned from me, I hope, and I'm just really proud to be a part of it."
Smith has seen it all during her four years as a varsity basketball starter at BSHS. The Braves were at rock-bottom when she arrived as a freshman, and they stayed there for a few years. They rarely won, and they weren't expected to. Some players took basketball seriously while others did not, Smith said. Team chemistry wasn't good, and it showed on the court.
Other players fell by the wayside throughout the past four years, but Smith stuck with it. She loved basketball, and she wanted to win.
Over time, more players entered the program who shared her mentality. Piece by piece, a roster of like-minded players came together. Most of the lineup was solidified last year, but the Braves were still too inexperienced for it to translate to success. Frustration lingered.
Finally, Bonner Springs made a major breakthrough last summer. The Braves played a rigorous summer schedule and caught themselves by surprise by posting a 25-9 record.
Smith would be the Braves' only senior during the 2010-2011 season, and she suddenly had a feeling her final season could be much different from her first three.
"Throughout the years we've all become so dedicated," she said. "We've put OUR time in because that's what we wanted to do. Everyone just worked so hard during the summertime — and that's when it counts."
The summer success had the Braves itching for the first day of basketball practice. High-intensity workouts yielded even more improvement, and by the time the first game rolled around the Braves were ready to usher in a new era for the program.
"The first game we were nervous just because it was our first game," Smith recalled. "But we weren't like, 'Great, we're going to just go play and lose. That's just what we do.' We were like, 'We're about to kick some butt! We know what's going to happen!'"
The Braves delivered a 30-point rout of Piper on opening night, and it was the first step toward what would ultimately become the best season of Bonner Springs girls basketball since the 2002-2003 squad went 16-6.
Among the memorable performances were a third-place finish at the Wellsville Top Gun Tournament, a 54-51 victory at Sumner in early February and a stunning come-from-behind, 55-47 road victory at Lansing where the Braves used a 21-0 fourth-quarter run to turn a double-digit deficit into a comfortable lead. It was the only time during her career that Smith beat the Lions, and she buried four 3-pointers in the contest.
The Braves' 38-22 victory against Piper last week was the program's first postseason victory in five years.
Bonner Springs was even tied with Sumner until the final second of the third quarter in the substate semifinal loss. It's a scenario most observers probably wouldn't have fathomed before the season began.
It was a collective effort for the Braves to get to the point where they were playing in a hotly-contested postseason contest as a serious state tournament contender, but BSHS coach Clay Oakes knows Smith is a big reason the Braves have come this far.
She's been the one constant in the lineup throughout the turnaround, and she set the tone for the program.
"She set the example," Oakes said. "She's the one that it doesn't matter what day it was, didn't matter if she was having a bad day or maybe feeling a little ill, she's someone that you knew would work her tail off from the start of practice to the end of practice. She's that person who would be vocal and try to get other people to work hard if they weren't doing things correct in practice, and those are the types of leaders that set the standard that you hope your (younger players) see and they say, 'Hey, that's the type of player I want to be when I'm a senior.'"
Smith finishes her Bonner Springs career with a 29-52 record. More than half of her career victories came this season when the Braves orchestrated a remarkable turnaround from a 6-15 record to a 15-6 campaign.
After three seasons of frustration, Smith is going out as a winner. She's leaving her program in significantly better shape than she found it. The Braves are winning again, they're respected and the groundwork is in place for a very bright future. As more success comes their way, they can look back and be thankful that Erica Smith helped make it possible.
"I consider this season a turning point," she said. "That's what I keep telling them. They're going to exceed this position next year."